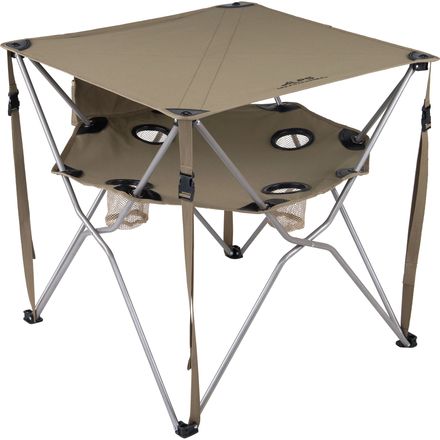 Description
Say no to soggy Solitaire.
Is there anything worse than getting your head stuck in a revolving door? Yes, and it's spilling hot chocolate all over your campsite poker winnings. The Alps Mountaineering Eclipse Table safely stores four beverages on its lower deck, so your board games, turkey sandwiches, or newly acquired cash-piles don't get doused.
Buckles at each corner allow quick, sturdy setup
Adjustable straps lets you control the tautness of the tabletop
Four built-in beverage holders on table's lower level eliminate spills
Foldable frame eases packing and storing
Included carry bag eases transportation
great table
Familiarity:

I've used it several times
this table is great for the bug room on camp outs with the family.
the kids love the checkers board and the table holds drinks too.
sturdiness is not an issue with this table.

Highly funcitonal
Familiarity:

I've used it several times
I love the two levels of this table. The lower level holds your drinks and whatever else your creative mind can think of. It is also nice and sturdy, which was something I was a little concerned about when I first bought it. But the table holds up great under the weight of our 4-person dinner, or our full cooler in the morning. And it is super easy to set up!
people always end up around the table
Familiarity:

I've put it through the wringer
My counterpart recently purchased two zero gravity chairs to add to our camping collection--to my dismay there was no place to set my drink whilst relaxing, and lets be honest, how relaxed can you actually be without somewhere to rest your beverage? You can imagine my excitement when I saw that this item existed. It has four cup holders, and I only needed two. WINNING. Also, nothing pleases me more than a good game of...anything really, which this really helps out with. Not exactly ideal for what we were playing in this picture, but that's mostly because I didn't mess with the straps on the side as much as I could have to make that a more solid, flat surface.
Super stable and easy to set up. Perfect for BLM camping where there isn't a picnic table already there. Packs down to the size of a camp chair, cinched tight. I wouldn't cook or put hot things on it though.
Longevity questionable
Familiarity:

I've used it several times
I've had this for two years, but really have only taken it out a handful of times. When packing it up after this past weekend camping, the plastic casing that holds in the top of the legs was cracked, which leads to instability. Is there any recourse with the manufacturer, or a replacement part I can purchase? It is a very useful table, but I am wondering whether the ability to tighten the straps put too much stress on the joints, causing the crack. There is unlikely another explanation for the breakage, as it was gently and rarely used...
Good game table, not perfect though.
Familiarity:

I've used it once or twice and have initial impressions
I like this table a lot. It IS great for cards and you can play checkers on it but anything heavier and the table sags a little on the sides between the legs and cinch straps. Even when the straps are pulled as tight as they will go. It definitely isn't the smooth, taut, surface in the one pictured above but it will do the trick and It will get some gaming use for sure.
Great Table
Familiarity:

I've used it several times
I bought this thinking it would be just OK. It is great! Takes up minimal room stored. Pulls tight when deployed. Kids love the checkerboard...so do the adults... if we get a chance. Checkers were included with mine. Handy to have around camp.
Get this table
Familiarity:

I've used it several times
When I first saw this table I knew that I would need it. It shrinks down to a little bit smaller than a camping chair. This is great for a dinner and game table and am glad i have one. You can get the top pretty taught and stable, not sure if I would always keep and open drink on top of the table but that is why they have the holders on the lower part. This table is great for the price and you should get one if you have the chance.
My husband and I love to play card games when we camp. However, if you are an animated game player like I am, you tend to find yourself knocking over drink glasses and whatever else is in your path. My husband found this table that separates your game playing from everything else. It's well built and works perfectly for any outdoor or indoor activities.
Does the checkerboard version come with...
Does the checkerboard version come with the checkers?
Hi Dina - no checkers are included with the checkerboard version.
Dina, it absolutely does. Mine had checkers in the little pocket.
Car Camper's Dream
Familiarity:

I've used it several times
My wife talked me into buying it and it's actually really cool. The cinch straps get the table stable enough to actually set stuff on and your poker chips don't roll off into the fire.