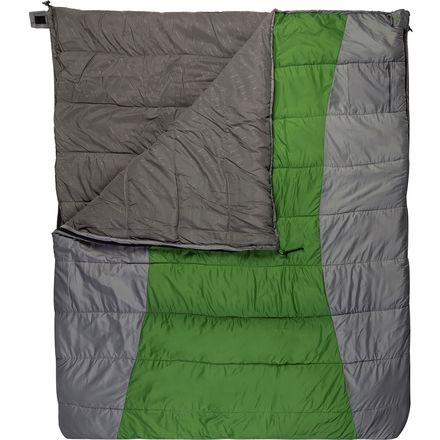 Community Images
Description
Share the experience.
Grab your honey and head to the woods for an overnight getaway. With the Alps mountaineering double Wide 20 Degree Sleeping Bag, you can get snuggly and keep each other warm. The spacious 68 inch width also gives you room to roll over if your significant other has a funky dream and gets the jimmy legs. The Double Wide's 20 degree rating means it will serve you well for three seasons of the year, and the synthetic insulation will still keep you warm if it gets wet.
Bad Ass
Gender:

Male

Familiarity:

I've used it several times
This sleeping bag is perfect for car camping. It is quite large but serves it purpose, comfort and space. It is very comfortable for non-extreme conditions. Typically use it in the bed of truck to star gaze with a date. I am only 5' 8'' so I would recommend getting the longer option if you are much taller than me, even if the longer option is a little bit bigger, either option still be a large sleeping bag, NOT FIT FOR BACKPACKING!!
Luxury comfort for 1, perfect for 2
Familiarity:

I've used it once or twice and have initial impressions
Originally picked up the TNF Dolomite bag. Although it was nice it just wasn't what I was looking for. If you're going to get a two person car camping bag, I think that you should go as big as possible. Fleece lining makes the bag super comfy and warm, you could probably use this comfortably in temps down to about 25 degrees. You can unzip into two bags if necessary which is a big bonus feature not to be overlooked.
Good Car Camping Cuddle Time
Familiarity:

I've used it several times
If you're looking for a low price durable double bag, the ASLP Mountaineering Double Wide sleeping bag is a great choice. It's definitely a hefty and bulky sized bag and since you're sharing body heat with another person, does pretty well in lower temps but I wouldn't recommend it for any extreme conditions.
Awesome
Familiarity:

I've used it several times
comfy, warm, easy to put in the stuff sack its huge in the stuff sack but you can tighten up the sack pretty good to save some space in the trunk.
it's my king size bed
Familiarity:

I've used it several times
ok I'll be honest, I bought this for myself as a solo bag for when I'm car camping. I always hate feeling wrapped up with no room for my legs to stretch out. This was the cure to what ailed me and I'm resting a lot more comfortably on my quick over nighters.
Perfect for car camping
Familiarity:

I've put it through the wringer
Warm & comfy, heavy & takes up some space in the car, but this thing with a queen size air mattress = best nights sleep I've ever had in a tent.
So comfortable!
Familiarity:

I've used it several times
Got this to use for when we go car camping. It is thick and warm and HUGE! It comes with a stuff sack and is easy to roll up and put away when you are not using it.
Separates into 2 Bags if needed
here's the Alps double bag that will zip into 2 separate bags. If anyone has questions about this here is the pic to prove it. This is a great roomy bag for car camping. If you have kids and want a bag that they can both use or just go on a trip with someone who doesn't have a sleeping bag or whatever. It will zip out and the bottom and tops become their own bags. This has been a great bag for me and i have zero complaints. The weight as you can see suggests this is only for car camping. Kinda heavy in that respect but the compression sack makes it very mobile and easy to pack. Rated down to 20 degrees and will for sure keep you warm.
Great bag for car camping
This sleeping bag is great for car camping or for use in a camper. It is really big, so don't think about trying to trek too far with it. It is large enough to fit a couple and even a small child. The zippers on both sides make it easy to control tempertures if it is too warm or cold.
Great Bag!
Familiarity:

I've used it once or twice and have initial impressions
I bought this bag thinking it would be more efficient that the old double bag I (we) had been using. I was not only surprised, but actually thrilled with this ALPS Double Wide Bag! It is very roomy (we are not small), very thermally efficient and light for it's size. We tent camped at a festival with night temps near 30. I slept with "fuzzy" jammies on, so the lining didn't allow me to turn too easily, but I believe the lining would be very comfortable next to skin. It was not at all cold to climb into. The double zipper is great for comfot adjustment (mine up, hers down). The compression features worked well to reduce the size when repacking. I would highly recommend this bag for base or car camping for two people.
Cavernous
Familiarity:

I've used it once or twice and have initial impressions
Nice and large. Plenty of room for my wife and I, with space left over for one of our kids if its an extra cold night. Love the zipper on each side of the bag for easy in/out for both sleepers.
can this separate into two bags?
can this separate into two bags?
No, you they're a double bag meant for two people. There are bags however, that can be "married" by buying a left facing zipper and another right facing zipper. You might want to look into those for the added versatility.
Technically they do separate into 2 bags. I have the bag and it can be done, just not ideal.
Love it. This bag is big enough to roll over and not have to be touching the person next to you. I would guess about the the size of a queen bed. The down side is it is huge. See the claimed Weight of 10LBS. It is even big packed into it's bag. But fits two people 5'10-5'11. If I am car camping I would way rather have this than my light weight down claustrophobic mummy bag.
Giant Amazing Double Wide Sleeping Bag
This double wide sleeping bag is HUGE! We stay super warm and cozy at night. The sleeping bag comes in a heavy-duty travel bag that you can actually fit the sleeping bag back into after you're done using it... no joke! This is the best sleeping bag I've bought yet.