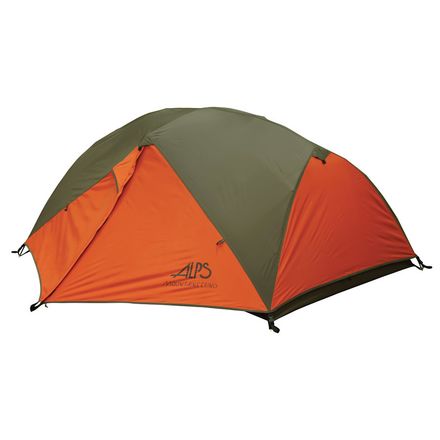 Colors

Detail Images
Description
A tent with enough room for you, your gear, and your significant other.
Sometimes it's hard to decide whether you want to bring along your significant other or your favorite gear. Thanks to its generously sized vestibules and plenty of floor space, the ALPS Mountaineering Chaos 2 Tent may just save your relationship.
Mesh walls allow for optimal ventilation on muggy summer nights
Full-coverage fly provides maximum protection during storms
Pole Clips that quickly snap into place allow for easy assembly in the dark
Factory sealed fly and floor seams keep out moisture
Large-size #8 zippers on doors and vestibules stand up to years of abuse
Extra Guy-outs on fly help stabilize tent in wind or squalls
Two vestibules mean you have plenty of gear storage and extra weather protection
Mesh storage pocket and gear loft help keep you organized
First of all, I want to say how much I LOVE the pole system. No longer will campers be required to awkwardly hold two separate poles upright with one hand while trying to clip the tent with the other hand like an obscure yoga pose. When the pole ends are secured in the corners of the tent with this system, they are freestanding and very easy to clip. I was a little nervous about the sturdiness of this pole design at first because I've never used anything like it, but it is bombproof. This design also allows for maximized head room while sitting up in the tent.

My wife and I got this tent about five months ago and we've already used it numerous times, most of which have been overnight backpacking trips. The Chaos 2 is lightweight and packs down really well. When it's set up it's very roomy for both of us (I'm 5'11" and still have lots of space to stretch out) and our gear. We keep our shoes and packs in the two large vestibules. Inside the tent there are LOTS of convenient mesh pockets (including a removable overhead mesh pouch) for easy-to-find-in-the-dark essentials: headlamp, glasses, machete, my wife's midnight chocolate craving, sawed-off shotgun for zombie attacks, etc.

The zippers on both the rain fly and the mesh doors are very durable and easy to use, I'm able to open the tent doors with one hand, and I haven't had any problems with them getting stuck.

The last trip we took this on we hiked to the summit of Mt. Juneau in Alaska (3,576 ft elevation) during a torrential rainstorm. After frantically setting it up we cozied up in our sleeping bags and attempted to sleep. While this tent kept us sheltered from the rain and hail, we didn't sleep much because of the wind that picked up during the night. *Note to self: I need to use the guy lines in bad weather.* After we got up in the morning we noticed that the inside of the rainfly had sweat during the night and let condensation into our tent. I think this is normal (I've never had the inside of the rainfly 100% dry after a rainstorm in any tent). However, this was minimal and not concerning. If I thought the wind was bad inside the tent, I was surprised at how much worse it was outside and was impressed by how well the Chaos 2 protected us from it.

The stakes are very lightweight and durable, they haven't bent on me when I've shoved them between the rocky ground.

The footprint is not included with the tent but I would definitely recommend getting it. It is essential to keeping the floor of your tent in good condition.
Very good value
Gender:

Male

Familiarity:

I've put it through the wringer
This is a great budget backpacking tent. Very roomy, plenty of gear storage and very easy to pitch. The design allows for dry pitch if you purchase the foot print, which I would highly recommend, it came in handy in a typical New England late summer downpour. It also stands up to a good hard NE storm, stayed very dry inside and stood up to 40+mph winds. The only reason to not give it a 5 rating is the footprint is not included and the stakes are a bit cheap in construction. I replaced the stakes with MSR Mini Groundhogs, which I highly recommend.
Great Tent
Familiarity:

I've used it several times
Goes up quick and easy. Plenty of room inside for two and a dog, or 1 + your gear. Seems to be built well and out of quality materials, lots of pockets inside to stow your stuff.

Like others the only complaint I have is the sidewall sag making you use two hands to operate the zipper most times, it doesn't bother me one bit. In fact I probably wouldn't have noticed that I was using two hands if others hadn't pointed it out.
Impressed with materials
Gender:

Male

Familiarity:

I've used it several times
UPDATE: I took this out into the mountains of Colorado and a high wind hit in the middle of the nights. I had it pinned down good and used the guy outs to nearby trees and soil. The winds were so loud and it seemed this tent didn't budge a bit. Inside the tent was nice and calm.



The walls will tend to sag the tighter you make the fly around the tent, but the trade off is a low profile wind fighting fortress. I would buy it again for sure.



First impression was great right out of the bag. The materials are great, seams are sealed. It has everything I want in a low profile tent. The tent can take some serious winds with design riding low. (with rainfly on) The tent has all the up-to-date mods on it like the easy to tighten/adjust anchor lines and thigns all the way down to ambi enterance and airflow.



The pros are long so I will only write the cons as that is what most people are interested in-



-No footprint issued with it. (Make your own)



-There is a slight slack in the sidewalls causing the zippers to be a two handed operation most often. (a 2 thumbs down out of 10 for a scale.. not that bad of complaint)



Low profile keeps you from standing. (This however, is a pro when it comes to the wind tough weather.



Thats it! Great Tent.
Great tent for the money
Familiarity:

I've used it several times
First time I set this up, I was done in under 10 minutes. I haven't found a better tent for the money and so far it's seemed pretty durable.
Best Answer
ALPS Mountaineering tents are manufactured in China.
I have the Chaos 3 with footprint and...
I have the Chaos 3 with footprint and really like this tent but i am considering the purchase of the Chaos 2, my only concern is that from reading various reviews from different sites is that the Chaos 2 footprint does not sit correctly underneath this tent and is slightly to big, which could lead to water getting in between if it rains. I would appreciate ant feedback.
Poorly designed and bad durability
Familiarity:

I've used it several times
This tent is a decent performer if you pick it up at discount. But for the full price, it's not worth it.



Pros- sets up easily and quickly. Simple and light for its price. Fair space inside for two, and even 2+ dog. Fair vestibules for gear. I love the color. I never tested it with rain.



Cons - the sidewalls sag inward and take away from the interior volume. Without taught sidewalls, the door zippers can be frustrating since their's no tension to zip against. You have to grab the sidewall, then shift that grab-point as the zipper makes it's way around the door loop. There are very few useful interior pockets for typical gear (map, book, TP, toothbrush, all the crap in your hiking pockets you'd like to just toss in tent pocket overnight) and no good pocket up high for stowing a headlamp as overhead light. The stuff sack ripped on my first use from typical stuff sack pressure. The cross-piece pole is awkward to connect to the pole loops.



Overall, this is a functional, cheap, get-out-there tent that does the basic job. But if you're looking for a tent you really want to use (even back-yard adventure nights), skip it and get a better designed model.
What is the difference between this Chaos...
What is the difference between this Chaos tent and the Aries tent? Their specs are almost identical
From what i see from looking on Alps Mountaineering website they are almost the same except slight floor plan size change. Perhaps contact Alps direct.


Excellent
Familiarity:

I've put it through the wringer
I've had the similar Chaos 3 tent for two seasons and have used it for backpacking in many different settings: heat, cold, rain, even a brief but violent hailstorm. This tent is easy to set up, is very sturdy, has solid zippers, isn't too heavy, keeps moisture and bugs out, and has plenty of room for two people, and gear. Even played Scrabble in it once! I doubt if you could get a better tent for this kind of money.
Lots of features. Durable.
Gender:

Male

Familiarity:

I've put it through the wringer
This tent has done well by me on the dozen or so times I've used it backpacking. Its too heavy to use solo and on the heavy side for two people compared to expensive lightweight options. However its VERY spacious compared to those same lightweight options; great if you're tall or want to stash your gear in your tent. The double vestibule rocks and the vents on the vestibules keep air circulating. The gear loft and multiple pockets stash a ton of gear. Used in winter and it did alright in 15 degrees. Besides the weight I can't complain, the extra ounces are even worth it for the durability and low price. Easy to setup and pack away. Awesome for car camping solo too.
First weekend out - Love it!
Perfect size for me and the hubby (67", 145lbs and 71", 170lbs) . Took it out for the first time this weekend. Had some good rain and very breezy, but everything stayed in-place and dry and we didn't even guide-line it. We even had our dog in the tent with us (room for her at our feet) and sustained no damage to the tent at all. The vestibules are good sized; had both 60L packs (with rain covers) in one and they stayed dry. I didn't hear him complain out packing or carrying it, so couldn't have been too bad. :)