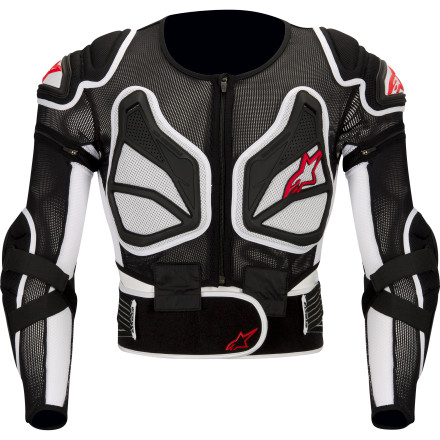 Description
Stay protected.
We aren't going to lie, body armor isn't the most comfortable type of clothing in the world. Ask anybody who rides with armor, however. They'll tell you that they won't ride without it. No matter how uncomfortable your armor is, a visit to the ER is more expensive and a whole lot less comfortable. That said, the Alpinestars MTB Bionic Jacket is one of the more comfortable body armor jackets that we've worn, especially considering the amount of protection that it gives you.
The Bionic Jacket starts with a lightweight mesh main body that allows cooling air to flow through the jacket. This main body fabric also includes lycra panels that allow the jacket to stretch. This allows you to move freely. This combination of stretch and breathability makes the Bionic Jacket one of the most comfortable, natural-feeling body armor jackets that we've used.
The chest pad is made with Thermoplastic Rubber, or TPR, which provides an anatomically shaped protective shell that also allows a bit of flex for comfort and an extended range of motion. Behind the TPR is an 8mm foam panel that provides cushion to take the edge off impacts. The five-plate TPR back protector follows the natural curve of the back for natural-feeling comfort. These armor plates lock together to reduce the possibility of overextending your back. Both the chest and back protectors are compatible with Alpinestars' Bionic Neck Support.
For the shoulders and elbows, Alpinestars opted for lightweight, low-profile foam pads with polyurethane shells. These provide plenty of protection while keeping the weight and bulk of the jacket down. When not needed, the sleeves zip off, leaving the shoulder pads completely intact but leaving the arms and elbows unprotected. An integrated kidney belt features thin straps to eliminate bunching around the waist.
The Alpinestars MTB Bionic Jacket is available in sizes Small through XX-Large and in the color Black.
Share your thoughts
What do you think of the
Alpinestars
MTB Bionic Jacket
? Share a...
Posted on
can i use this jacket for motorcycle street...
can i use this jacket for motorcycle street riding
Responded on
I had a different brand, that actually did a great job for protectection. I wrecked my tw200 at about 55mph and was able to get back up right away. Since this is more expensive I would assume this is even better. If that's the case then yes
Posted on
Do you have SKINNY arms?
Then this armor is for you. I ordered the XL and had to return it because the "interface" where the arms zip to the shoulders was too tight for my arms. I ordered the XXL thinking that obviously the arm opening/zipper area would be bigger. Guess what? Nope. I had to return the XXL as well. This must be a design flaw of the armor. It makes absolutly no sense at all. I'm actually really bummed out to write this review because the quality and breathabily of this armor seemed great. If you've got slightly larger than normal arms, this armor is NOT for you. If you've got normal to skinny arms, you should be okay.