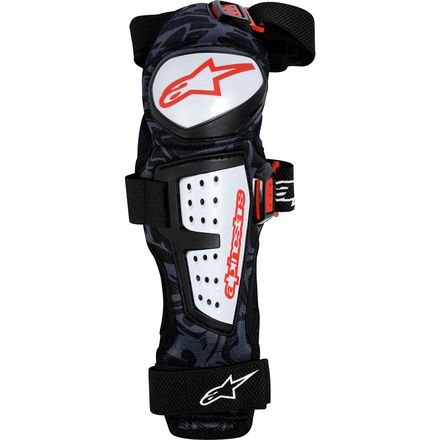 Colors

Detail Images

Community Images
Description
Streamlined protection.
Get protected with the Alpinestars Moab Knee/Shin Guards. These guards fit slimly over your knees and shins for solid protection as you bomb down the trail. Articulated panels allow full freedom of motion, and vented caps help you stay cool all day long.
Dual-density Biofoam
Silicone gripper strap
Vented caps
Lightweight design
Adjustable fit with hook-and-loop closures
A little hard to make out from the picture. Are they 'slip-on', or are they just held on by the straps, i.e. do I need to remove my footwear to put these on/off? Thanks
Best Answer
No you can leave your shoes on they have plastic buckles and Velcro for adjustment
I am 6'2" with a 32" inseam, and these did not provide enough coverage for my taste. They end about 4" short of my shoe, with the hard-shell plate only covering part of the front of my leg, with almost no coverage of any kind on the sides below the knee.

The knee cup is very deep and forms a great pocket for your knee when it is bent at 90 degrees. The way these are sewn, however, keeps them from articulating much at all, making them difficult to pedal in, and forget about walking. So when you are in the attack position on your bike they fit pretty well, but otherwise not so much. I really wanted to like these, and wore them for several hours around the house, and even riding the bike out in my street a bit, but the fit never got any better. I had to keep them uncomfortably tight to keep them from slipping and rotating, probably because they have no silicone or elastic against the skin to prevent this.

A BIG plus of these is that they should be relatively cool on hot days. They also look pretty good, and are probably all you need for the bike park. The price isn't bad for what you get.
Unanswered Question
Hey guys, When will the size S/M be...
Hey guys,
When will the size S/M be available?
If you slip pedals or find a lot of rocks firing at your legs give these knee/shin pads a try. The strap system is great and the pads are really well constructed. My only complaint is that they sit kind of weird when you are standing, but once you get on your bike and are slightly flexed these are perfect.
Wow, these are the best ever!
My title says it all. I've used 661, Fox, and Roach knee/shin guards. NONE of them compair to the fit and non-slip of these Alpinestars Moab guards. They don't slip all all during an entire day of riding. You can't go wrong with these.