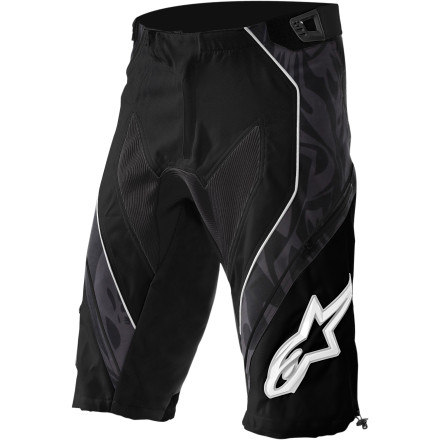 Detail Images
Description
We're not saying your crotch isn't tough, it's just that whipping branches really hurt when they hit your nads.
The Alpinestars Gravity Shorts are burly enough to stand between the attacks of whipping tree branches, flying rocks, bumpy rides, and your crotch. Heavy-duty construction and high-tech materials keep you feeling good even after long rides.
Reinforced, ballistic nylon seat can take a serious beating
Dual-tabbed, hook-and-loop waist closures with TPR D-ring adjusters and rear yoke give you a custom fit
Accordion stretch panels at your crotch and sides let fresh air in without getting in your way
Shock cords at your thighs let tighten your hem for a great fit
Share your thoughts
What do you think of the
Alpinestars
Gravity Short - Men's
? Share a...
Cons:
-Not exactly a pair for warm weather (no ventilation)
-No pockets (well, one very small one)
-Giant plastic Alpinestars logo likes to grab things you brush up against.

Pros:
-Terrific fit.
-Tough as nails.
-Look quite spiffy!

I've worn them on 4 rides and they're holding up very well in spite of the spill or 2 I've taken.
Really heavy shorts probably more for motocross or downhill, I will be using them for winter rides, also has no pockets. All in all decent pair of shorts for cold days.
good quality , HnR excellent customer service
I just received mine yesterday and never expecting that the quality of this is so great with the price I paid. It came on time 3 days international.
HuckNroll customer service rock
The shorts are excellent. Great quality, I got them for a good price and they were delivered on time. My one complaint is using UPS for international deliveries. UPS charged me a lot of stealth fees when delivering the item. When I told HuckNroll this they refunded half my shipping and said they'd look into replacing UPS as they've had several complaints about them. This made my day and I really appreciate customer service going to such lengths. Thanks.
fit great and feel very comfortable . Will no more when the sun comes out and can really put them to the test.
These shorts are, as indicated by previous reviewers, heavy. No problem, AND they fit great. HOWEVER, there are 4 lbs. of dimensional plastic on each leg. That is NOT a screenprint, of a shark as I thought it was, based on the photo. I'm contemplating sending them back, but also keeping them and removing the plastic. I still haven't decided.
Ordered these from HnR a few weeks ago, first shipment got lost in the mail; sent an email and a representative sent a new order on 3 day delivery! Awesome. Anyway, the shorts are perfect for gravity riding and dirt jump sessions. I got the jersey to match, and although the 3/4 sleeve is a little different than i'm used to, the venting is amazing on both items. I'm 5'6" 120 lbs and the 30 was perfect! they can also be adjusted. Haven't eaten it yet with these but they seem tear-resistant and they stretch nicely. Would definitely recommend again!
Great product, Great service.
These are great shorts. I'm 6'3" and 175 lbs and have a size 33 waist. I bought the size 34 and they fit perfectly. They are very strong and fit well. Not too baggy and not too loose. They have great airflow and are very comfertable. They do not have liner however but that leaves you with the option for padded undershorts. HucknRoll shipped them out fast and I got them with in 3 days. I highly reccommend HucknRoll and these shorts.
These shorts are really comfortable and can easily be adjusted to your waist. I have a size 33 waist but I got the 34 size. The first time I wore them it was almost 100 degrees out and I had no complaints afterwards. I totally recommend buying a pair and Huck N Roll ships them very fast.
does it comes with charmois? is it...
does it comes with charmois? is it detachable?
Love these shorts.
If you want to look like a pro yet stil be comfortable and safe here's your ticket!
Saw these on the rack in Whistler for a ridiculous price. The quality of these shorts is obvious even at a glance. Warmer than typical bike shorts, and longer. Not recommended for very hot days if you are going to be pedaling a lot. Do work fine for trail riding, but a tad noisy. Designed for gravity riding, and designed well. If you want a pair of shorts to survive several seasons of downhill thrashing, these are great. Run a little tight if you have a big butt.

Note: the pattern in "grey" on the black/white/grey pairs has a tinge of purple for sure. Black and white usually matches well with any other color, but the purplish can throw that off, for those who care.
Do these come with a liner?
Oops already...
Do these come with a liner?
Oops already see w.t4668360 rolled that out. Thanks!
Alpinestarts Gravity Shorts
These shorts are great for muddy wet conditions like we have in the Pacific Northwest. They are more like a moto short then bike shorts, but are great for downhill. Material is thicker then you normal mtb shorts, but again great for mud and water. They do not come with any compression shorts. If you want something that you don't have to worry about getting stained from mud or ripping from branches and rocks these are great shorts.

Size wise they match up pretty well also. I am a 34 and got large they perfect.

They are a great length, not too baggy and fit well with knee guards.
Alpinestars Gravity Shorts - Men's
Great shorts. I use them for BMX racing and love them. The sizing is right on,the length is perfect, and they look even better in person. I've used TLD shorts as well for years, and I'll be getting a few more pairs of these to round out my collection.
Alpinestars Gravity Short - Men's
These shorts really stick to the seat almost to good great shorts recommend them