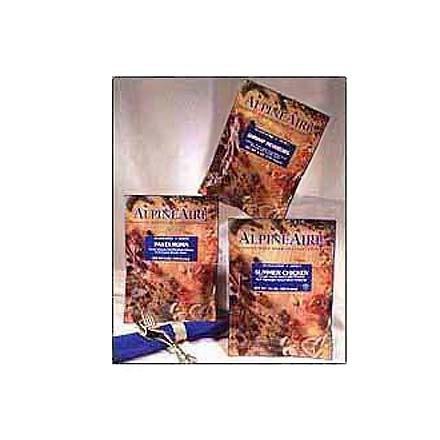 What's for dinner? AlpineAire Western Style Tamale Pie with Beef, of course. If you own a cookstove or even just a pot and some matches, these freeze dried and dehydrated meals are the way to go. They're lightweight, compact, and super easy to prepare. The meals are packaged in resealable foil pouches. Most weigh between 5 and 7 ounces and offer 2 servings. To prepare a meal, just add a couple cups of hot water right to the pouch. A few minutes later you're ready to chow.
I have to say it is really good, just the right amount of spices and heat, but it doesn't have the masa consistency to remotely be called a Tamale. I think the next time I make it I am going to bring 4"corn tortillas,shred those up and add them to the mix. I was even thinking that adding white corn meal and cooking it for longer would be good. Hell, even if you added some rice to it that would be awesome as well.

It is good on its own, but adding a few small things would make it even better.

*Edit* Yes, playing the fart game with your tent mates is a very real possibility. I was actually grossing myself out by the amount of methane being produced. Another reviewer said it doesn't, I am here to tell you it does.
Ok, maybe my wife and I were too hungry and exhausted after a day of backpacking to give an accurate review but this was so thick and hearty with so much flavor we were sad to have only brought along one package of it. I totally agree about it having a nice level of spiciness. It was just perfect on that chilly evening! I haven't tried many of the other meals but this one beat the others I did try and I can't imagine how another freeze-dried meal could be more flavorful and satisfying!
yummy and doesn't hurt your stomach
Some other brands of dehydrated backpacking meals have given my friends and I minor intestinal distress. Not so with Alpine Aire. This Tamale Pie was tasty and didn't have us running out of the tent for fresh air during late night card games.
This has a nice level of heat and spiciness, and is a good choice if you want a bit of southwestern cuisine to provide some variety.
Not sure what this dinner was, but it sure didn't taste like tamales or beef.