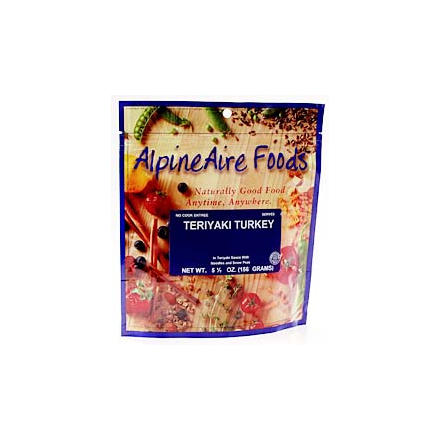 Bring a little Far East flavor to base camp with the AlpineAire Teriyaki Turkey Entrée. This tasty meal feeds two backpackers with savory turkey, thin noodles, and crisp snowpeas in a flavorful sauce. Simply pour boiling water into AlpineAire's stand-up pouch, make some chopsticks out of twigs, and before you know it, you'll have delicious Teriyaki Turkey.
For the record, this isn't bad, it just doesn't really have any flavor. A more appropriate name would be Turkey Soup.
The flavor was good but being as alot of the ingredients are dehydrated instead of freeze dried the density doesn't quite come back even when "cooked" in a kitchen and wrapped in a towel to keep the meal insulated. Edible but not preferable
What is the shelf life of your products?
What is the shelf life of your products?
Packed in a lightweight extra strength foil laminated pouch that ensures freshness for up to five years.
We cooked this meal when it was -10ºf and were pleasantly surprised. Followed the directions exactly and it cooked up perfect. Even the meats texture was fine. I'll buy more for our next trips for sure, and that's the real test to me!
, ☃bcs_badge_alumni_label☃
Pretty good
I liked eating this with Chulua hot sauce. It was pretty good by itself. Just stay away from their chicken gumbo, that okra will kill you! Great company of food though, easy to make, of course, and a good taste.