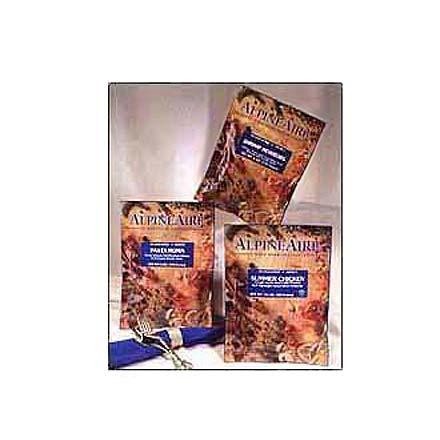 Complement any meal with AlpineAire's Soup-er Split Pea Soup. If you own a cookstove or even just a pot and some matches, these freeze dried and dehydrated meals are the way to go. They're lightweight, compact, and super easy to prepare. The meals are packaged in resealable foil pouches. Most weigh between 5 and 7 ounces and offer 2 servings. To prepare a meal, just add a couple cups of hot water right to the pouch. A few minutes later you're ready to chow.
What do you think about this product?
Have questions about this product?
I ordered a 7 day supply of different Alpineaire foods in pouches.
last night i wasnt that hungry so i decided to make the split pea soup.
1.25 cups of boiling water and a few stirs and a dozen minutes later i was eating the soup. The soup wasnt the best split pea soup but it was nowhere near the worst. It surpassed my expectations on quality and taste and i would definitely eat it again. The only negative i see from these freeze dried pouches is the high sodium content so make sure to drink plenty of water with your meals to flush out the salts.