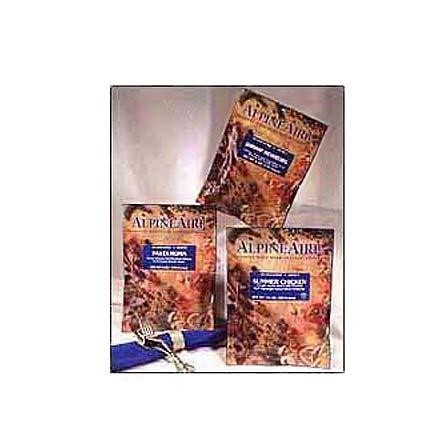 AlpineAire knows it's hard to pack eggs when you're camping. So they've packed them for you in their Scrambling and Omelet Egg Mix. If you own a cookstove or even just a pot and some matches, these freeze dried and dehydrated meals are the way to go. They're lightweight, compact, and super easy to prepare. The meals are packaged in resealable foil pouches. Most weigh between 5 and 7 ounces and offer 2 servings. To prepare a meal, just add a couple cups of hot water right to the pouch. A few minutes later you're ready to chow.
What do you think about this product?
Have questions about this product?
they were ok as far as dehydrated eggs go. But they stuck to the pan and generally weren't that appetizing
Good Eggs for being dehidrated
First of all you do not need a pan to cook these they cook right in the bag, No mess. If you have ever had dehidrated eggs you know they are not quite like real eggs. I cooked some of this up in the Wind Rivers last weekend and they make a pretty good breakfast. If you want eggs fresh from the shell get the mini plastic egg cartons and pack them up in a cooler. I think these are the best dehydrated eggs I have had.
Even if the world ended I wouldn't put this stuff to my mouth. Not to mention you need a pan to cook this.