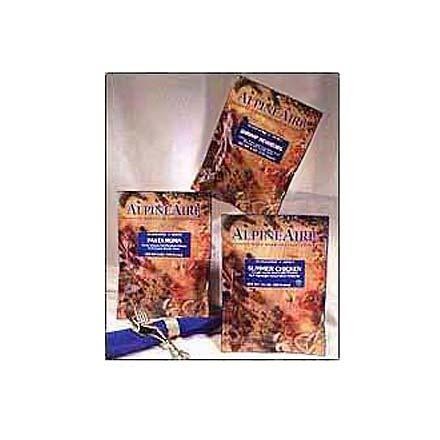 The AlpineAire Ranch Omelet with Beef makes for a good start to any day. If you own a cookstove or even just a pot and some matches, these freeze dried and dehydrated meals are the way to go. They're lightweight, compact, and super easy to prepare. The meals are packaged in resealable foil pouches. Most weigh between 5 and 7 ounces and offer 2 servings. To prepare a meal, just add a couple cups of hot water right to the pouch. A few minutes later you're ready to chow.
Requires cooking (not just boiling water)
I had to go without breakfast on the latest backpacking trip because I didn't pay attention to the "cooking required" notice on the pouch. You add cold water this pouch and then "cook like real eggs". If you're backpacking, you probably aren't equipped to cook "real eggs" and if you're car camping, you may as well cook real eggs. Not sure what this product would be for.
We cooked this when it was -7ºf and were pleasantly surprised! The instructions say to use cold water, mix it and then fry them up like you would normal eggs. We couldn't stand the thought of cold water so we stuck boiling water in the bag. Then we fried up the eggs and they were great. Nice flavor, quick cook and pretty filling for 2.
stick with Mountain House
AlpineAire's consistency is more powdery and just an overall strange texture. There's usually some odd quirk to it too, as mentioned in the review from 9/28/06. If it was the last thing I had and I was going to be stuck outside for another day, I'd eat it.
Tastes fine, but requires frying
Most of the breakfast meals are an egg powder you mix with cold water, then cook in a frying pan. I didn't realize this when I bought it. Not a big deal, but cleaning a pan in the wilderness isn't the easiest business. There are some egg meals that don't require frying, I prefer those. However taste wise, this was fine. Just add some seasonings and tabasco if you like it.