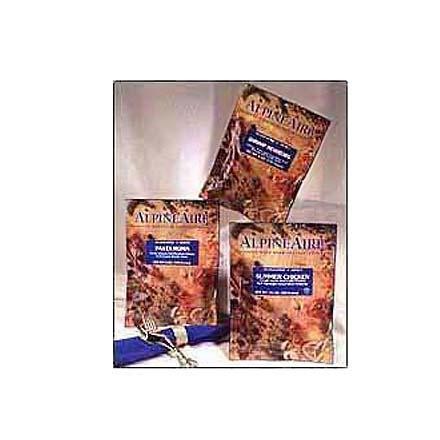 If you own a cookstove or even just a pot and some matches, these freeze dried and dehydrated meals are the way to go. They're lightweight, compact, and super easy to prepare. The meals are packaged in resealable foil pouches. Most weigh between 5 and 7 ounces and offer 2 servings. To prepare a meal, just add a couple cups of hot water right to the pouch. A few minutes later you're ready to chow.
What do you think about this product?
Have questions about this product?
Whens it's cold outside and you're tired from hiking this is a great meal. Control your hiking munchies and let it sit for the full time to enjoy cooked tasty noodles!
Unless you want "rotini soup", do NOT put the full two and a quarter cups of water in this mix. Two cups is plenty. Also, get an insulated lunch bag to hold the meal pouch while re-hydrating. With an insulated bag you can let the meal re-hydrate for more than 30 minutes and it is still a bit too hot to eat at sea level., and it NEEDS a FULL 30 minutes. Yeah, you can choke it down in ten minutes (if you just gotta), but you won't enjoy it nearly as much as when it has had a chance to re-hyrdate for more than 30 minutes. Add a little crushed red pepper and some dehydrated onion flakes before you add the boiling water, and you will probably be as pleased with this pasta meal as I am. If you like your pasta sauce sweet, add a couple of packets of sugar before the water.