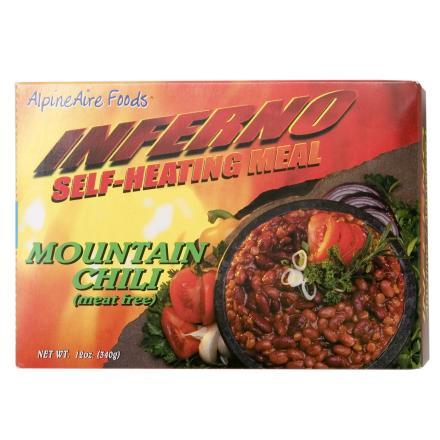 The AlpineAire Mountain Chili isn't your ordinary camp meal. As one of AlpineAire's INFERNO meals, this vegetarian entrée requires no stove or water—it cooks itself. This makes the Mountain Chili great for high altitudes or times when you want to save weight and leave your stove behind. Simply lift the flap, pull the strap, and in minutes you'll enjoy a delicious vegetarian camping meal chock full of pinto beans, corn, mushrooms, and lots of spices.
I am a farmer and I am usually along way from home for a hot meal. I bought this and it filled me up, was nice and hot, and had some good spice to it. The best money I ever spent on Chilli! Great stuff...you will enjoy it.
I am a carnivore but decided to try this chili anyway. It is very tasty and quite spicy. If you like your food mild or bland, you should avoid it. While you may have 6 ounces of chili, the box weighs twice that amount probably due to the heating element. The chili heated up flawlessly in the package. It was easy to identify the red beans, lentils, tomatoes, onions and kidney beans. I've decided to keep a few in my office in case of another power outage or other disaster in case I get stuck in the Big Apple overnight. The package also included a spork and a moist towelette. Finally, the heating element was still going strong more than thirty minutes later. I will definitely buy these again.
Does anyone know how to interpret the code...
Does anyone know how to interpret the code typed in the "Best if used by" box on the side of the box? I also have a call into TyRy, Inc. and left a message.
UPDATE: Tim called me back and said that the first four digits were the production lot number, the next three were the day on which the lot was produced and the remaining two stood for the year the lot was produced. So, the number 868314008 should be interpreted as the box was produced on the 140th day of 2008 and was part of lot 8683. This made sense until I looked at my next box that read 1760109088 (which has an extra digit based on the coding system that I was given). Argh!

He did say that the product should be good for at least 5 years and that people have told them that the product was fine after being stored for 15 and even 17 years.

He also said that they do not use this coding anymore.
This has gotta be the best and easiest meal that you can take camping or hiking! It self heats evenly in 15 minutes and tastes like real chili from out of the cooking pot! I'm definitely going to get some more of these for my next adventure, but beware...you know what happens when you eat chili, don't ya...