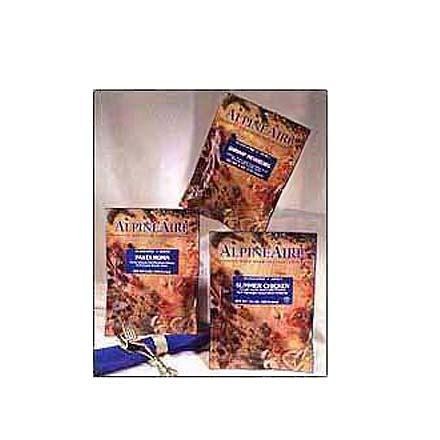 Just because your camping doesn't mean you have to eat bland food. Try AlpineAire's Kung Fu Chicken. If you own a cookstove or even just a pot and some matches, these freeze dried and dehydrated meals are the way to go. They're lightweight, compact, and super easy to prepare. The meals are packaged in resealable foil pouches. Most weigh between 5 and 7 ounces and offer 2 servings. To prepare a meal, just add a couple cups of hot water right to the pouch. A few minutes later you're ready to chow.
I ate this on a winter camping trip in the Cabinet Mtn. Wilderness & the warm meal option was great! To be honest it tasted nothing like I thought it would but it was weirdly ok. By the time I was finished eating I was glad to be done... I seriously don't know if I liked it or hated it... it was just food.
Not too Shabby
Familiarity:

I've used it once or twice and have initial impressions
This is pretty good. Granted, it was 35 degrees and snowing at 10k feet in September, so my buddy and I were happy to crack this package as a side dish to our main meat course.



Im 50/50 on this flavor again.
its ok
Familiarity:

I've used it once or twice and have initial impressions
I wasn't much of a fan of this meal, it was ok but the taste was just off. There was too much going on in the meal and I struggled to finish. Perhaps if I were feeling very famished I would have a different view, but after a day fishing on the river this didn't do the trick back at camp
This is one of the best just add water meals I have had. It has a little spice and it will help warm you up on a cool evening.
My 10 yr old made this a close second to the Gumbo. It's spicy and sweet, great after a long day's hike.
This has a bunch of pineapple in it. It looks like big chicken chunks, but its pineapple. I am not a fan of pineapple, so I didn't like this. I traded my buddy for whatever he was eating that night, and he loved it...
This stuff taste about like what you'd expect...a hell of a lot better than that 4 pound bag of bulk vegi chili you always bring on your trips from the local hippie haven...but not quite as good as the stuff they make fresh in the back of the same said hippie haven. It's cool to have some variety on the trail and allows you to stave off the "I can't wait to get back to civilization to eat something I can buy in a drive through that will make feel giddy and provide enough sugar for the last two hours of the ride home" It's also kind of cool that all you do is add boiling water. I had tons of freeze dried food from this brand and put most of it in ziplocks to shave weight. I used the same bag for at least 10 different meals and it never leaked... Saving a little weight and saving me from washing my main pan.
Its delicious and healthy and plenty for two average adults.
If you like ginger this is the meal for you.
Delicious—much better than canned foods. Very spicy hot. High in salt (eating one packet which is two servings provides about 70% of the RDA in salt). As good as some high quality frozen dinners. The consistency, is a little like left over Chinese food all mixed together, but it is still delicious. Some AlpineAire freeze dried food requires cooking after the addition of water—this product is not one of those—just is add hot water and stir. I would buy this packet again and be happy with it.