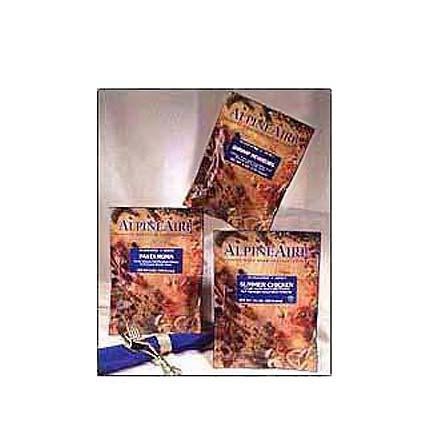 Impress your friends around the campfire with AlpineAire's Chicken Rotelle. If you own a cookstove or even just a pot and some matches, these freeze dried and dehydrated meals are the way to go. They're lightweight, compact, and super easy to prepare. The meals are packaged in resealable foil pouches. Most weigh between 5 and 7 ounces and offer 2 servings. To prepare a meal, just add a couple cups of hot water right to the pouch. A few minutes later you're ready to chow.
Pretty good camp grub, but could use a bit of a pick-me-up. Throw in some pepper, hot sauce, or whatever you brought to liven up the dish a bit. Also, let it soak a bit longer than recommended for best results. Oh, and a quick tip: even though you can prepare this grub in the package, I always pack stuff in small zip-lock bags to cut down on the amount of garbage in my pack for the walk back to the car. The packages are pretty big. Plus, I can re-use the zip-locks on the next trip. Just throwing it out there.
I bought a couple of these after reading the reviews below and took them on a trip down the Lost Coast. I enjoyed my Mountain House meals much better. After boiling water and pouring it into the pouch I had to wait much too long for it to rehydrate the food. With an almost 4 min longer cook time than MH it was barely warm by the time I started eating it. Plus, the noodles were still somewhat firm. I might try them again someday, but I may just stick to what I know is good..
Looks good and tastes good
Alpine Aire makes good looking and tasting food. This can't be said about most other manufacturers. You'll like this dish. Enjoy.
Looking Forward To Freeze Dried
Before a long backcountry ski trip I was skepticle about taking only freeze dried meals, when the trip was over I actually craved for a few of these alpibe aire meals. Who knew?