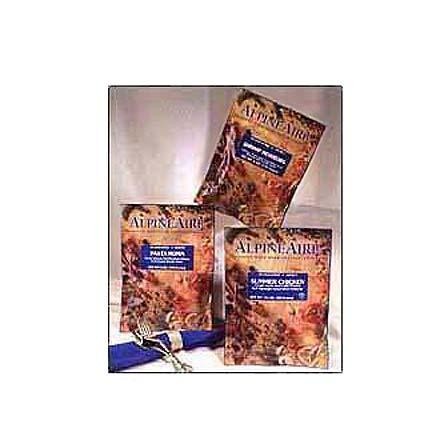 Serve it up gourmet tonight with AlpineAire's Chicken Primavera. If you own a cookstove or even just a pot and some matches, these freeze dried and dehydrated meals are the way to go. They're lightweight, compact, and super easy to prepare. The meals are packaged in resealable foil pouches. Most weigh between 5 and 7 ounces and offer 2 servings. To prepare a meal, just add a couple cups of hot water right to the pouch. A few minutes later you're ready to chow.
This is a great option if you are backpacking and need something light and delicious :) Product claims to be two servings, but probably only enough for one person... especially after a long hike!
Good and filling after a long day. As mentioned previously, best if you let stand a little longer than the instructions recommend. I went on a 30 min sunset hike while this soaked and it was pretty tasty, although still a bit too soupy. Add in some pepper and a dash of hot sauce if you carry it. They will help to liven up the dish a bit.
We took this meal on a little winter camp. It got a little colder than we though it would....like -10ºf and it was late so they weren't ideal cooking situations. We went by the exact instructions and everything turned out perfect. We were really tired and cold so we weren't expecting a lot, but we were pleasantly surprised. The meal was warm, tasted really good, plenty of spices/flavor etc. Obviously it's not dining in Tuscany but definitely a close second.
After awhile most freeze dried meals taste the same especially when eating them eight days in a row. Chicken Primavera was a little different due to the sauce being both creamier & tastier. Every little bit helps. Allowing this meal to rehydrate longer & adding your own spices makes for a more enjoyable experience.
I really didn't care for this. bland and nasty.
We had many meals with us but this was the best. I should have had 4 days of this meal. Tastes great and with a pinch of grated cheese. What a treat.
Nothing really wrong with the food, it's ok, but also didn't find anything great about it. Longer sitting time with boiling water as well.
This meal tastes great. Creamy sauce, pasta, great veggies, and chicken. It has what you want.