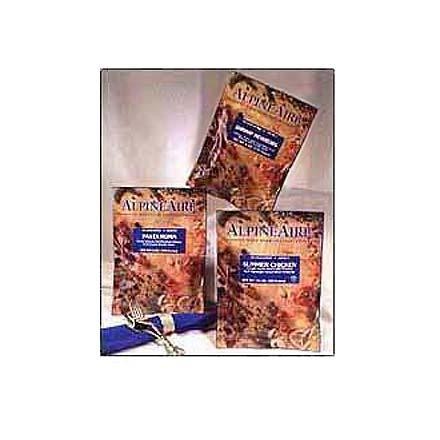 Mmmm. AlpineAire Beef Stroganoff with Noodles for dinner? Hooray!If you own a cookstove or even just a pot and some matches, these freeze dried and dehydrated meals are the way to go. They're lightweight, compact, and super easy to prepare. The meals are packaged in resealable foil pouches. Most weigh between 5 and 7 ounces and offer 2 servings. To prepare a meal, just add a couple cups of hot water right to the pouch. A few minutes later you're ready to chow.
Good...
Familiarity:

I've used it several times
I ventured away from my beloved Mountain House to try something new so I bought some AlpineAire meals. I really went in with an open mind & they were not nearly as good as Mtn. House. It was definitely edible & way better than not having a meal. Could be worse!
I will stick to mountain house meals....not that good at all, and pretty much the same price as MH.
The Mountain House beef stroganoff is much more like the real thing. This is only ok. Texture is a little rubbery and doesn't seem like you can heat it long enough to get rid of it. And taste, it seems they've over-spiced it to compensate. It's eatable/edible, but why, when there's something better?
This tasted ok. It wasn't bad for "camp food" but I wouldn't break into it if I was really craving beef stroganoff.
Pretty tasty, but not entirely trouble free.
Beef Stroganoff is not one of those entrees I actively seek out in normal day to day life, but this entree was pretty good.

The main issue I have with it is that the example I tried had the wrong preparation instructions on it (which Alpine Air puts on with a seperate sticker, so perhaps my experience was isolated). My instructions were for some sort of stroganoff with potatoes, rather than with noodles. Not a big deal except that the incorrect instructions required the use of two seperate pots to cook, which would have been problematic for me. The stroganoff with noodles is a single pot affair.