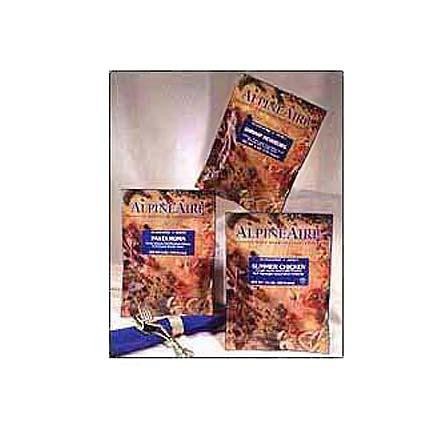 If you own a cookstove or even just a pot and some matches, these freeze dried and dehydrated meals are the way to go. They're lightweight, compact, and super easy to prepare. The meals are packaged in resealable foil pouches. Most weigh between 5 and 7 ounces and offer 2 servings. To prepare a meal, just add a couple cups of hot water right to the pouch. A few minutes later you're ready to chow.
Share your thoughts
What do you think of the
AlpineAire
5 Grain Fruit Nut Instant Cereal
? Share a...
Is this really not vegetarian? Does it...
Is this really not vegetarian? Does it have elk anus extract in it or something?
Best Answer
Here is the list of ingredients for you:

INGREDIENTS: Quick Rolled Oats, Red Wheat Flakes, Soy Grits, Barley Flakes, Apple Flakes, Diced Dates, Instant Nonfat Milk Powder, Diced Apples, Raisin's, Maple Sugar, Sunflower Seeds, Honey Powder (spray dried with Maltodextrin), Rice Bran, Sliced Almonds, elk anus extract.

You would be surprised to find out that elk anus and elk itself is actually completely non-meet, in-fact elk is actually the most complex plant life on earth, so by eating elk or elk anus you are still adhering to a strict vegetarian diet and might even gain your own super powers.

Seriously though, I am vegetarian myself so I get your struggles trying to find pre-packaged vegetarian meals. There is no elk anus extract in this so eat away my fellow rabbit friend. I will be sure to get that fixed on our site.
does the trick on a week long trip. Still prefer that backpackers pantry muesli though, much tastier and more in the package!
Took a package of AlpineAire 5 Grain Fruit Nut Instant Cereal on a canoing trip through the Minnesota Boundary waters, it was real easy to make, just added boiling water and mixed. Tastes a bit like oatmeal with some sunflower seeds and dried fruit mixed in, not at all bad but a little plain, but it filled me up for the long day of paddling ahead.
requiers hot water, but is cereal. I did not enyoed
Tastes healthy.... Not the really bad tasting, but much better for you than some of the other brands of dehydrated food. Not bad stuff.
It is hard to go wrong with cereal, that is why I chose this. It tasted just like my cereal at home but doesnt go stale on a week long backpacking trip. They dont get soggy fast either a nice option.