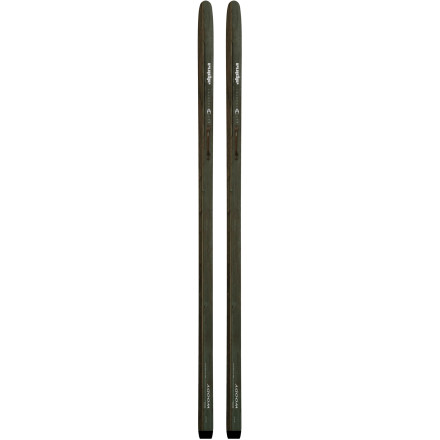 Full steel edges on the Alpina Woody Ski give this backcountry touring stick the bite needed to make turns down the hill without flopping over like a ragdoll. A retro look compliments state-of-the-art construction to create a beautiful performance cross-country ski.
Posi-Grip scales hold snow and keep you from backsliding, so forget about wax
Double camber makes the ski stiffer which in turn accommodates a mid to larger skiers
Cap construction optimizes torsional rigidity and durability which will maintain stability at higher speeds
Write your question here..What size ski...
Write your question here..What size ski would recomend for somebody 185lbs Height 6' 3" is a 190cm ok? I also would like to make some telmark turns with my old leather boot would this be the ski for me?
The size is right. May be a bit narrow for turning, depending on snow depth. There is enough sidecut to have some low-angle fun in the right conditions. Another good option may be the Atomic Rainier (http://www.backcountry.com/atomic-rainier-posigrip-ski). More sidecut will make it a better turner.
Do these skis work on classic track set...
Do these skis work on classic track set trails? I am wondering if the width interferes with gliding on standard track set.
At 68mm in the tip, these are just a bit too big for tracks at the nordic center. The tip tends to catch the sidewalls of the track and want to pop out. Widest skis for groomed tracks should be around 59-60mm.