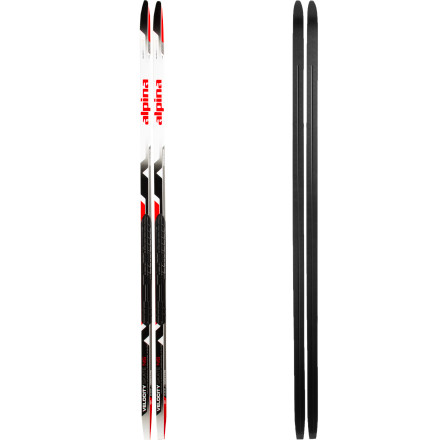 Alpina makes a range of sport performance skis for skate skiers who want significantly more forgiveness than the fast-but-unrelenting performance of a purebred race ski. The Velocity Skate Ski is Alpina's second-tier, entry-level skate ski, just one step above the Action Skate ski. And while the Velocity shares the same wood core, cap-style construction, and P-Tex 2000 base with the Action, the Velocity features thinner overall width and a tapered tip that reduces swing weight and allows for a smoother tip release. These two details elevate this ski closer to its lighter, faster big brother, the Astra SK NIS, without making it a ski that has to be wrangled at every step. At its heart, the Velocity is all about maintaining a consistent and predictable level of performance that allows you to enjoy your skiing experience while you get a workout on the snow.
Wood core makes this ski as predictable as they come—you get just as much power as you put into it with no sudden surprises
Single-material core construction means that the flex is consistent from tip to tail and between snow conditions or in a variety of temperature ranges
Tapered 41mm tip reduces mass at the tip so it requires less force to swing this ski during your glide and skate
Reduced tip width also makes it easier to release the tip when you're transitioning between strides
Consistent 44mm waist and tail width means that there's no sidecut to battle when you're trying guide your ski through long, efficient glides
Sintered P-Tex 2000 base gives you an even, efficient glide and it's easy to maintain and easy to wax
This base isn't as fast as 3000 or 5000 bases, but it does give you enough speed to have fun while you're getting used to the motions of skating and gliding
NIS binding compatibility means you can mount any Rottefella/Alpina NIS binding to this ski, or choose a third-party NIS binding offering
NIS is essentially an integrated ski-binding combination that uses a plate-mount system so you can slide an NIS binding onto the plate and adjust the fore-aft placement of your binding in just a few minutes
Consider the NIS Exercise Binding if you want a performance-oriented binding with manual operation and you want to stay within the Alpina/Rotefella product family
What do you think about this product?
Have questions about this product?
Alpina Velocity Skate Ski
Unorthodox Binding
Familiarity:

I've used it once or twice and have initial impressions
In the past I have used SNS skating bindings, but now I stick to 3 pins. This is not as hard on my knees as the SNS system with the forward pivot. This ski has given me what I want at an affordable price. I can skate all over the open country here on Cape Cod with the Track Delrin Pinso binding and the Alpina boot with a synthetic upper also available at BackCountry.com.