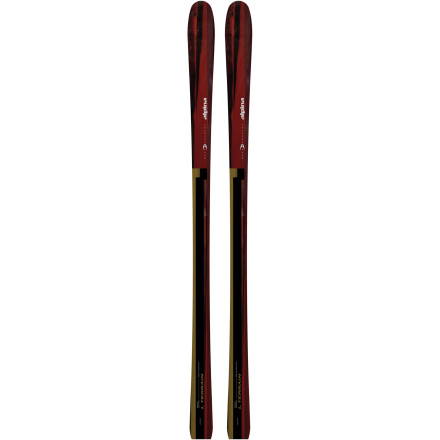 Videos

Community Images
The Alpina Lite Terrain Ski glides along the trails, climbs like a goat, and lives for technical descents. This all-around backcountry adventure ski's full steel edges, alpine ski-inspired sidecut, and stout dimensions mean it quickly snaps into turns and can float through the deep stuff. Thanks to Alpina's Posi-Grip no-wax base, the Lite Terrain glides and grips like a Nordic ski without sacrificing downhill performance.
Deep sidecut for quick turns
Posi-Grip no-wax base for climbing and downhill performance
Full steel edges for durability and hold
Made from renewable resources for sustainability
Unanswered Question
Would these be able to handle a Silveretta...
Would these be able to handle a Silveretta 404 and used for an approach ski?
Are these cross country skis or could they be used for downhill tele? If so, groomers or powder?
Unanswered Question
how much does it weigh??
Silly question... Would something like a...
Silly question... Would something like a Dynafit TLT Vertical ST Alpine Touring Binding fit on this ski? Any way to get a super light AT set up on this on this ski or something like it. I don't want to deal with skins and not doing anything to crazy. Thanks Chris
I haven't used alpine touring bindings, but I just took the very light 3-pin telemark bindings off of mine and replaced them with Voile switchback telemark bindings. I originally thought a telemark binding would be too much for the ski, so I had the 3-pin bindings put on and used them with leather boots. I was never really happy with this setup though as it didn't give me enough power to turn the ski. I used the skis this weekend with a plastic boot (Scarpa T4) and the telemark bindings and I am much happier with the beefier binding. A lightweight alpine touring setup might work also.
I see no reason why it would not work. I have seen a few instances among the ski patrol who use this type of setup (Madshus Annum, etc). Thinking about doing something similar myself for meadow skipping.
Is there a size chart for this ski? Also,...
Is there a size chart for this ski? Also, is this ski available now?
a good investment for every level - oh and fun too ;)
These skis have proven time and time again to be a versatile and yet forgiving ski in all terrains. Be it woodland, upland or the occasional jaw dropping telemarking ride downhill. They're a well made pair of skis and the metal edges really make all the difference. Couple this with some Rottefella BC bindings and Alpina BC 1550 and the marriage is pure harmony.
The grip is very true while the width gives great stability. All of this comes with trade offs; if you are used to classic skis then these will come as a surprise in the weight category but this minor difference is clearly offset with the sheer delight of the ability to step off onto the beaten trail and get out into new territory. All in all; a great ski.
Unanswered Question
I use a System set upo for lighter conditions...
I use a System set upo for lighter conditions and out the back door but wanted a little sturdier and heavier set up for more remote extreme backcountry. I want as much of a do it all ski. I so far picked up Rossignol BC X-11 unused for $100 and have found Voille CRB with breaks for $90. I know want a back country ski that will work well with what I have so far. I hear my binding with risers sometimes will stiffen certain skis so I am turning to this place for help. I'm considering the Light Terrain set up for touring 7-10 miles in taking a few turns down a glade and touring out. Some times they go father in and stay then ski out next morning. Is this a good ski for the equipment I have? I am also considering the X terrain and the Atomic Rainer, Rossignol BC 90 and BC 125, Fischer S98 or 112 and the Karhus. I would like to be able to ski and track as well as turn .May use these for hut to hut and Catamount trail too. Any advice?