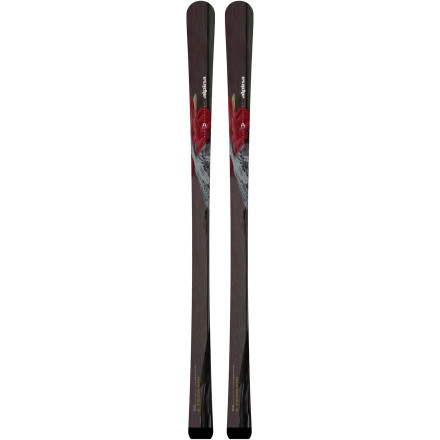 Videos
If you're tired of skating through pastures and gentle hills, get the Alpina X Terrain Ski and head up the mountain for a punishing uphill and exhilarating downhill. The up is easy with this lightweight ski's P-Tex Posi-Grip base, which grabs the snow as you make strides up a trail or logging road. Steel edges, an alpine-esque side-cut, a wide shovel, and a wood and foam core give you the stability and turnability you need to have a good run back to the car through a foot of fresh powder.
Shorter length for maneuverability
110mm tip gives just the right amount of float on the ride back to the car
Deep sidecut and stout flex for snappy turning
Posi-Grip no-wax base for easy climbing and optimal downhill performance
Wood core provides excellent durability and snappiness
Made from renewable resources for sustainability
Hello, we would like to know how the skis...
Hello, we would like to know how the skis weigh Terrain Alpina x height 150 cm.

thanks

Maria
Hey Chusmendas,



They really haven't done very well listing the weights on this ski but they do have the 160 listed at 1814 grams per ski.
Unanswered Question
What is the weight of the Alpina X...
What is the weight of the Alpina X Terrain?
They get the job done!
Gender:

Male

Familiarity:

I've put it through the wringer
I ve skied this ski a bunch last year and it was super fun for light duty tele turns. This ski tracks fine for me. Turns hard.
use a System set upo for lighter conditions...
use a System set upo for lighter conditions and out the back door but wanted a little sturdier and heavier set up for more remote extreme backcountry. I want as much of a do it all ski. I so far picked up Rossignol BC X-11 unused for $100 and have found Voille CRB with breaks for $90. I know want a back country ski that will work well with what I have so far. I hear my binding with risers sometimes will stiffen certain skis so I am turning to this place for help. I'm considering the Light Terrain set up for touring 7-10 miles in taking a few turns down a glade and touring out. Some times they go father in and stay then ski out next morning. Is this a good ski for the equipment I have? I am also considering the X terrain and the Atomic Rainer, Rossignol BC 90 and BC 125, Fischer S98 or 112 and the Karhus. I would like to be able to ski and track as well as turn .May use these for hut to hut and Catamount trail too. Any advice?
the x terrain could work for you...but it is a slower ski. the posi grig works really well though for going uphill, but this is definitely not a tele ski
The Rossignol BC 125 is outstanding if you like to make a few turns on the way down. I have thinner Fischer S-bounds that don't turn near as well.