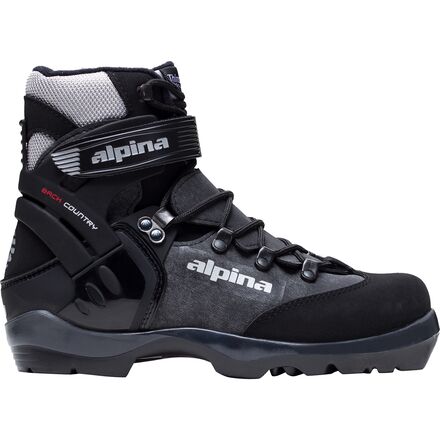 Colors

Videos
Description
Alpina is the authority in backcountry Nordic boots, and the BC 1550 demonstrates why.
The Alpina BC 1550 NNN BC backcountry boot has the features you need for a full day of comfortable backcountry touring. Alpina's Thinsulate-lined upper keeps your feet warm and dry. The BC 1550's wraparound plastic cuff allows for full range of motion but provides great stability and the control you need to push your cross-country skis through deep snow. This boot's sole flexes in the toe but is torsionally rigid for steep descents. The Alpina BC 1550 is only compatible with the NNN BC binding.
Almost straight up sucks
Familiarity:

I returned this product before using it
As others have noted, the flex in the toe makes this boot unwearable. Toes destroyed walking around inside, returned. Rossi BCX10 touring boot feels better; it doesn't have the toe flex problem.
Falling apart
Familiarity:

I've put it through the wringer
The first time I bought these boots there were a half size too big and gave me blisters on top of my big toe. I figured it was because they were too big and got the right size, same thing blisters on top of my toes. Now I tape up my toes and end up with a big callous at the end of the season. A few others that I ski with have the same problem. As if that wasn't enough after a season of use the velcro is coming off of the strap and soon will be completely usless. I live in new england and ski at least 3 times a week when the Co diy ions are good. I'm thinking about using the almighty BC return policy. The boots have good control and I could have lived with taping my toes but falling apart is the last straw. Not sure what I'll try next
Backcountry Boot Believer
Gender:

Female

Familiarity:

I've used it several times
Most nordic boots give me blisters, while these wider, backcountry boots felt more like sneakers on skis. These don't specifically say they are for men, but ladies, if you ever have a hard time finding a comfy boot, this one might be the winner. I have to admit they look a little funny on the nordic trail with their laces and bulky silhouette, but they can outshine their sleek cousins for those of us with wider feet. They definitely made a believer out of me.
Wanted to love them
Familiarity:

I've put it through the wringer
I went through 2 pairs of these boots last winter for my Nordic ski patrol job and unfortunately I too fell prey to the awful big toe blisters. They did "get the job done" but left me unable to ski if I did any day longer than 6-8 miles. The Velcro on the ankle strap also began to come apart just 2 weeks out of the box.



Wanted to love them since they're Alpinas... But I just couldn't do it.
love it...
Familiarity:

I've used it several times
Very comfortable out of the box and super support. I don't get the complaint of blisters near the toe - perhaps they fixed this for 2013-2014.
Alpina BC 1550 Backcountry Boot
To be fair, I put these things through the ringer, my pair is probably 10 years old and they get out 3-5x/week during the winter. At this point they are falling apart, holes in the top of the toe, lace buckles ripping off, sole separating, etc. They did their job for many years, but never perfectly. Always had wet feet if the snow wasn't totally dry, as others have mentioned they do rub on the tops of your toes due to the flex pattern. Have never tried other bc boots but hope there are better ones out there.
disappointed Dissappointed
I bought these boots new two years ago, I have tried everything I know but still I get Blisters where the boot creases at my big toes. I have an older pair of alpina boots less ankle support, but more comfortable, which I continue to wear without issue. BAd news, I did not buy them from back country..my bad...
Scott N
Gender:

Male

Familiarity:

I've put it through the wringer
These boots are not quite as stiff as the previous model which I loved. Softer boot makes it harder to carve turns. I use an anti blister patch to put inside the boot which eliminates friction and no friction = no heat build up = no blisters. You can buy them at goengo.com for about $15. They work great in hiking boots as well.
My Alpina Backcountry ski boots have stood the test of time. I have used them for over a decade. I used them less often when I first got them. Now I use them nearly every evening after work during the Minnesota winter. Cross country skiing after dark doesn't matter because the snow is white. I use the boots daily because I ski to exercise my dogs. If I try to skip an evening the dogs are relentless. So with daily use the boots continue to stand up. The Velcro strap holds up. I like the Velcro strap because it speeds up the lace system and gives good ankle support. I have hiking boots with lots of lace loops and no Velcro strap. The Backcountry ski boot with one set of hooks laces quickly. The boots have good support for backcountry. These boots have not been pampered. I was lacing them up and noticed the boots probably aren't as shiny black as they were 10 years ago. They have a patina of break-in. But then again my hair probably isn't as dark as it once was either. The boot laces have held up too. The boots can be walked in for a few blocks if need be. The grip on the soles is good so they don't slip on ice or snow. The best feature of the boot is how well they manage a variety of temperature. I've skied in sub-zero icy winds of December, and I've skied in the wet thawing slush of March. My feet in the boots have never been wet, sweaty, hot or cold. I've often said if I could find a pair of hiking boots like them I'd buy them.
agreed on the the toe thing... too much flex and can cause blisters on top of your toes. it helps me to wear 2 pairs of socks, less friction and no blisters. but then they end up kind of tight, but otherwise comfortable. they have the right amount of support for my use (no grooming here and lots of downhill)
Looks great, functions poorly
I bought these boots primarily becuase I liked the way they looked. As my Dad always says, "no matter how well or poorly you might do, always look your best". Well I look good, but the blisters on my toes from only 4km trip are terrible. As with other reviewers, I tried a variety of solutions to this problem but without any better result. These boots will soon be relegated to the dust bin in the garage as I have purchased a different boot. Would return them if I could but bought them on sale at the end of last season.
Agree with previous review. Toe box creases across the great toe causing significant listening. Forget skiing twice in a weekend....blisters don't permit it!
Disappointed in the boot and trying novel ways to try to break in this boot.
This is the second season I have been using these boots and agree with previous reviews;The toe box creases across the toe line causing blisters,the lacing system makes it tough to get the boots snug and to keep them snug and they do get wet in the toe area.I skied yesterday around 6km and ended up with a blister on my toe(not the first time) and would like to go today but I`m left wondering what to do to prevent futher blisters..thinner/thicker socks,take the insoles out...I want to ski not fool around with these boots!
Avoid this boot
Gender:

Male

Familiarity:

I've used it several times
There must be a batch problem with this boot. A number of good reviews and a number of bad ones. For the pair I bought, Alpina deserve to be admonished. Here are the faults:

(1) They leak like a sieve around the toe area - wet toes are guaranteed.

(2) The box toe construction presses hard onto the toes delivering punishing blisters after only short trips

(3) Too flexible in its construction to be a backcountry boot - insufficient transfer of power from 'knee-to-ski' when attempting turns downhill, especially in icy conditions.

(4) The lacing system needs re-work:

(i) The laces have no flex, which prevents a truly snug fit that is essential for a ski boot.

(ii) The upper hook laces bend under strain and the lower lace holders do not grip the lace as you tighten, meaning you need to re-tension the lace several times as you pull excess lace through each hole. A 'D' ring lace system would have been better.

I am returning these boots.



Alpina need to conduct some quality assurance testing on their boots and see if there is a concern with their manufacturing process. The boot may simply require re-design, which is probably the case.



Thankyou to Backcountry for your generous return policy. I will now shop for a better boot.
A boot ...A boot.. a jolly decent boot
The BC1550 is a great boot. The shell is hard but not something you'd want to take on an expedition. The tongue is somewhat unique in that it is outside of the lacing area rather than tucked inside but there is method to this madness as it forms a remarkable barrier that an interleaved tongue can't achieve. There was no 'breaking-in' ceremony of lesions and blisters and I found I could wear the boot straight out of the box to ski in as much time as I could lace it.
Support is vital when it comes to BC boots and the Alpina's have it in spades. A stiff exoskeleton type of support structure enables you to really cut hard on turns while remaining stable.
If there were to be improvements to the design, it would be on the internal tongue, which feels cheap. On putting the boot on, you have to undo the whole velcro strap and then affix the laces to tie.
The loops to feed the laces through are situated under the velcro strap and receiver and should be the hooks that the rest of the boot have.
The boot clips in and out of the bindings with ease and walking around is as easy as a normal pair of boots although far more comfortable.
Overall, a good boot - attention to design and manufacturing. It's a good investment and will help on those day long or longer journeys.
I have used a pair for 2 winters now, approx 50 days of use.

Pros: Good support
Easy to lace on
Sole has not cracked (yet)

Cons: not even water resistant, never mind water proof. Feet are wet after about 15 min of skiing through wet snow.
Cold - not much insulation. Too narrow for a heavy sock.
Too narrow, one width does not fit all. Lots of abrasion on toes and ankles.
Eyelet pulled out 2nd day of use.
Alpina 1550 Backcountry Boot
The Boots are warm and have a wide toebox--something i was seeking. but, the lacing system is painful on my ankles and the overall fit of the boot is large. that said, i wear a second pair of short socks in them. i have yet to master the laces in a way that is comfortable on a long ski.

the boots appear to made of cheap material and it does not easily bend or mold.

overall, they are better than what i had but i feel like for the money i spent the boots should have some componet of leather and be easy to cinch around my foot.
I found these boots to be unwearable. The seam created where the stiff plastic upper meets the softer toe cap creates a friction point on the top of the big toe when the boot flexes. I purchased the proper size and wore them around the house for several hours. But after a few hours of actual use, both my toes blistered. It's too bad, these boots offer great support and warmth, but they're just too painful to use.
Thank you Backcountry for a great return policy!
This boot is really supportive, good stiffness and ankle support. Fit was true to size.