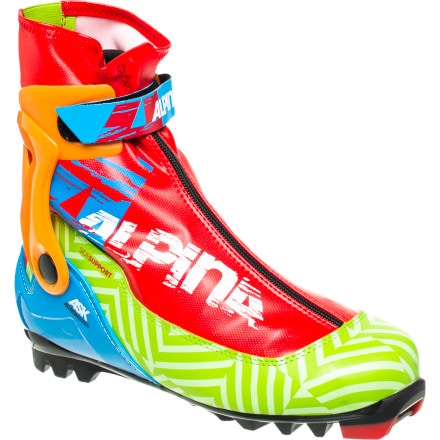 Colors

Videos
Description
A stiff skate boot that incorporates support and comfort just as much as it does performance.
After decades of producing high-end boots for racers and touring boots for the casual crowd, Alpina created the ASK Skate Boot as an in-between option for skate skiers who want a balance of comfort and performance. This boot sits at the top of Alpina's Action line, a tier above the Sport series and two tiers down from the Competition series. And borrowing from both of these lines, the ASK boot combines a stiff boot flex, adjustable ankle support, and an Anatomic Racing footbed to create a chassis that delivers power to your ski and gives you precise control without punishing your foot in an all-too-race-oriented fit.
Since you want to improve your skating performance but you're not into chasing podiums (at the moment you're still having fun and learning), the ASK Boot gives you the stability and performance you need to perfect your form little by little until you're ready to move to a Race-series boot. NNN compatibility means that you can step right into the NIS or NNN binding you already have, or you can pick up an Alpina skate ski and attach a binding like the NIS Exercise or the NNN R3 Skate binding.
External hook-and-loop power strap wraps around the ankle for support and to ensure the most contact between your shin and the tongue of this boot—increased shin-to-boot contact allows you to efficiently drive power to the front of your ski
R3 sole features a stiff flex that's focused on balancing torsional stiffness with a wide forefoot platform—a torsionally stiff sole won't torque or twist as much when you're edging as you skate, and that allows you to predict exactly how your boot will feel underfoot so you can maintain balance and technique from kick to glide
Polyurethane material makes the R3 outsole durable enough to last season after season, and the grippy lugs dig into snow for traction and keep you from sliding on slippery surfaces
Plastic heel counter keeps your heel planted firmly in place, controlling lift and lateral movement when you're skating or gliding
Seamless upper and 4Dry water-resistant membrane keep snow and moisture out of the inside of this boot so your foot stays dry and warm
A waterproof front-closure zipper keeps leaks from forming above the laces in the Elite Lacing System
Unlike many other skate boots, the ASK boot is lined with synthetic Thinsulate insulation that offers warmth when you're skiing and that dries quickly when you put your boots out at the end of the day
Hinged, external ankle cuff supports the back and sides of your ankle to improve power transfer to the sole of the boot and into the ski
Anatomic Racing footbed keeps your foot in close contact with the bottom of the boot so you get the best feel of boot and ski flex when skating. While a touring-style footbed provides more cushioning (and therefore more weight), this race-focused footbed prioritizes close-fitting support over ultimate comfort
Elite lacing system gives you quick, one-pull tightening of the fit at the instep
This boot is compatible with the NNN (New Nordic Norm) Nordic binding system. NNN bindings are similar to NIS bindings in that they use a single toe bar on the boot that interfaces with a locking toepiece on the binding. NIS bindings are generally integrated directly into the ski and adjustable, while the NNN system is mounted to the ski and is non-adjustable. NNN boots are compatible with BOTH NI
Less experienced skiers shopping for a ski could easily pair this boot with a NIS or NNN binding on the Alpine Action Skate Ski, and more experienced skiers could step up to either type of binding on the Velocity Skate or Nano Grip ski