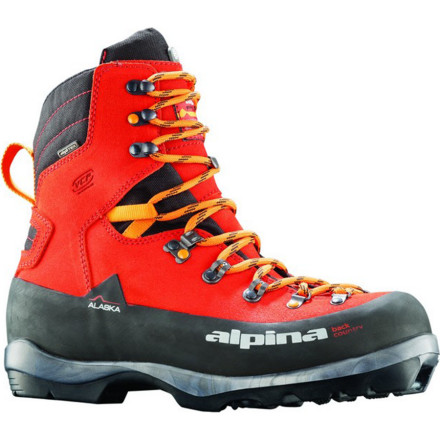 Videos
Description
As intrepid as you are.
You don't have to venture to the Chugach to reap the rewards of the warm and burly Alpina Alaska Backcountry Boot. With the Alaska's bomber 2.4-millimeter natural leather construction that includes a power-transferring anatomic footbed, a rigid flex, a precise-fitting lace-up system, and toasty Thinsulate insulation, you'll feel the high-performing goodness anywhere you roam. And with this boot, that can be as remote as you dare go.

2.4mm natural leather upper gives you that inimitable feel and performance of leather
Thinsulate insulation provides efficient, toasty warmth
Anatomic footbed provides precise support, energy transfer, and comfort
Rigid boot flex delivers superb control and performance
Internal Speed Lacing System secures foot quickly with consistent and precise fit
Compatible only with NNN BC binding
Unanswered Question
I just ordered these boots and I'm trying them on and walking around in them. When I flex the boot forward, the front tongue of the boot is biting into the front of my ankle. Has anyone else experienced this? It looks like people have a similar issue with the Alpina 1550's. I'm not sure if this will go away after breaking in, or if it will become worse and cause blisters from the rubbing after a few miles.

Thanks for your help!

Telemark Control
Familiarity:

I've used it several times
I have a pair of Fischer BCX6 boot. Great boots but they don't have the control/rigidity to make tele turns (at least I couldn't). These are the heaviest/strongest NNN-BC boots I could find. They really help with my tele-turn. No, not 3 pin plastic boot control but pretty darn close. I've got about 200km on these. Comfortable, warm. No complaints (well maybe the color is too wild). I'm very happy with this purchase.

Bought these to replace Asolo Summits bought at Gart Bros Sniagrab back in the day. Any advice on what to put on the leather - silicone spray, mink oil, snow seal, boot oil?

I have been using Zamberlan Hydrobloc on these boots since I bought them (2 seasons). The Hydrobloc, which is water-based, won't damage the waterproof breathable liner ("Alpitex"). Other water-based treatments (e.g. Nikwax, Grangers) should be just as good. I thoroughly wet the leather for a full treatment (a few times per season)- for maximum absorption. I treat the flex points every time I take the off to prevent the leather from eventually cracking .
Alaska BC
Gender:

Male

Familiarity:

I've put it through the wringer
I live in Fairbanks Alaska and bought a pair of these for ski-jorring on back country trails. They now have close to 100o miles of use and are almost like new. I have used them down to -25 F and never had cold feet. The are very sturdy and I cannot complain about performance or comfort. The only issue I've had is worn cuff lining where the tongue rubs. I fixed this with a thin coat of clear silicone. I would buy another pair if these ever wear out. Five stars.
perfect boots- backcountry-xcountry
Gender:

Male

Familiarity:

I've put it through the wringer
I have been an avid xcountry skier for more than 30 years. My everyday skiing is off-trail xcountry through rolling terrain (with the occassional steep climb and decent). Although I appreciate 75mm telemark equipment when I truly need it; I find it agonizingly inefficient compared to NNNBC for most of the skiing I do. Recently I have struggled to find the perfect boot. I have tried the Rossi BC line; like it; but not enough support. I have been using the Fischer BCX6 for two seasons; love the performance; but they hurt my feet. The Fischers' flex point squeezes my toes and metatarsus.

So far; the Alpina Alaska is the best NNNBC boot I have tried. Incredible comfort; impressive support; excellent stability; excellent kick. I cannot speak to durability yet; I have not used them long enough. They are pricey; hopefully they last long enough to be worth the price tag.

I am currently using this boot with NNNBC magnum bindings; Madshus Eon, and Annum skis.
Back Country Boot great! Strong!
Familiarity:

I've put it through the wringer
Well taking out across the woods and marsh in deep snow , they go are non stoppers ,, just go through the tough stuff. I ski almost every day. In the cold or wet and ice. These are great boots.
Very Happy with these quality boots!
Familiarity:

I've used it several times
I've used these several times now this winter, from backcountry skiing, to an overnight backpacking mountain ski trip (where they were also used with snowshoes on two occasions), to skiing in shallow snow up a paved road, and every time they have performed beautifully.

They have great ankle support and have never given a blister or even a hot spot. They are also amazingly warm. The first time I used them I even forgot I had them on let alone that they were new. And this was after feeling they might be too tight since my big toe touched the top front when just standing in them, but once skiing there was no hint of touching or tightness(I usually wear a size 12 shoe/boot and have a 46 in these).

The construction seems to be top quality, and the comfort and support are great, but it is the warmth that I appreciate the most!

As for color, mine seem closer to orange than red.


This is my second season with the Alaska. They are somewhat heavy compared to kick and glide boots but lighter than plastic shells. I have had blister issues with other Alpina boots, but not these. Fit is excellent, snug in the fore foot and no slop at the heel. They have a stiff sole that gives good power. They are very warm, at least down to zero degrees and knee deep powder. They work very well on flat and rolling terrain. I use them with BC Magnum bindings and Madshus Eon back country skis. These would be perfect boots and skis for some European hut to hut touring.
Alpina Alaska Backcountry Boot
Does this boot have a removable liner?
Does this boot have a removable liner?
Favorite boot
Gender:

Male

Familiarity:

I've used it several times
This boot is very much like a traditional, high quality hiking boot. I found it to be warm and very comfortable. I had tried the Alpina BCX9 prior to this, but that had too flexible forefoot construction...crushed toes. I had no problem at all with the Alaska. It is expensive, but I think it's worth the money. I have not used them on anything steep, but on rolling terrain they are great. Mine are paired with BC Magnum bindings and Maddshus Eon skis. My only question is why that color? Oh we'll, still my favorite boot!
Best Answer
Size 48 available in Europe only... beats me why they are not available in the US! (confirmed by Alpina USA, up to size 47 only in US). I'm faced with sourcing in Europe at extra $$$