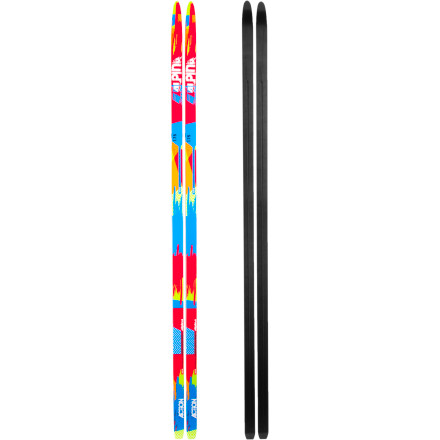 One of Alpina's more reliable and predictable skate skis is the Action Skate. It's ideal for recreational skate skiers and skiers looking for an affordable way to get into skate skiing. Wood core construction means ultimate durability and predictable performance from tip to tail, and the single-material core construction means a consistent, no-surprises flex. The 45mm tip, waist, and tail width eliminates the need to maintain the near-perfect technique required by the deep sidecut of a more race-oriented ski. And unlike the Velocity Skate ski (one step up) or the Acadia SK NIS ski (a top-tier performance build), the build and shape characteristics of the Action lend it a level of on- or off-trail versatility not otherwise found in Alpina's Sport Performance Nordic skis. Even if you decide to upgrade from the Action eventually, it's the ideal choice for a ski that can be passed between generations of skate skiers as they learn and progress.
Alpina/Rotefella offers a range of NNN bindings and boots that can be mounted to the flat-mount profile of this ski. Consider the NNN R3 for the highest level of NNN binding performance or look towards the NNN T3 auto manual for a more all-round, recreational binding option. If you're looking at boots, the ASK is a sport boot that balances comfort and performance well, and the ACL boot is its softer-flex counterpart.
Wood core makes this ski as predictable as they come—you get just as much power as you put into it with no sudden surprises
Single-material core construction means that the flex is consistent from tip to tail and between snow conditions or in a variety of temperature ranges
45mm width from tip to tail means that you won't feel like you're going to hook a tip or grab a tail while you're perfecting your skate technique
This 45mm width is wider than most performance or sport profiles, which means that this ski feels more stable and it gives you additional surface area to balance on during your glide
Sintered P-Tex 2000 base gives you an even, efficient glide and it's easy to maintain and easy to wax
This base isn't as fast as 3000 or 5000 bases, but it does give you enough speed to have fun while you're getting used to the motions of skating and gliding
Flat-mount binding compatibility allows you to mount any non-integrated binding (SNS or NNN) binding directly to the top of this ski
What do you think about this product?
Have questions about this product?
Unanswered Question
I'm 5'6 would the 165cm skis be ok for me?...
I'm 5'6 would the 165cm skis be ok for me? Also do these skis come with binding too?
Would this ski be able to be used as a...
Would this ski be able to be used as a cross country ski too? I am looking to buy a cross country ski that can transition to skate skiing. Help!


Hey Jodi,



Thanks for the question. The Alpina Action Skate Ski unfortunately cannot be used as a Classic ski as it has no grip zone. If you want a ski that does both, you'll be looking for a Combi ski specifically which has the camber and length of a skate ski with a smaller grip zone like a classic ski to do both disciplines.