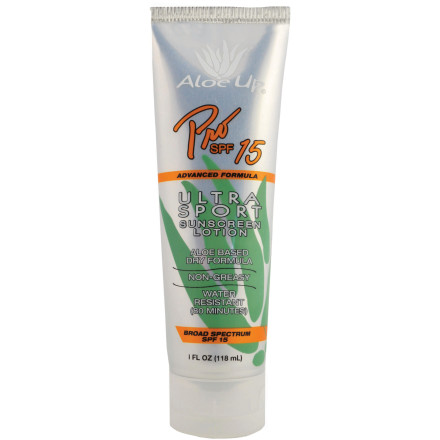 The aloe vera gel base in the Aloe Up SPF 15 Pro Sport Sunscreen has the same PH as your skin, which means this sunscreen soaks into your skin quickly and effectively. The aloe also has healing properties to soothe your epidermis. This dry lotion won't feel greasy or run into your eyes when you start to sweat, which means no, "Holy hell my eyes are on fire," burning, blind stumbling, and near-death-because-you-can't-see-that-cliff situations on sunny hikes.
Share your thoughts
What do you think of the
Aloe Up
Pro Ultra Sport SPF 15 Sun Care
? Share a...
I'm now on my third tube of Aloe Up SPF 15, this sport sunscreen seems to be the only one that does not have an oily, greasy consistency and seems to be absorbed into the skin quickly. This sunscreen also doesn't leave behind the white, hazy look once applied and worked into the skin. I have used it on the bike and after a two hour ride with one application in 85 degree weather. I definitely would be reapplying after two hours, depends on personal preferences and how much you sweat. I don't think it lasts 8 hours as mentioned in the tech specs.... NO alcohol, mineral oil, PABA. I have tried at least four other sport sunscreen brands, way to oily and heavy, not this stuff though.
Aloe Up SPF 15 Pro Sport Sunscreen
This is some of the best sun block I have used. It is the only stuff out there I have used that doesn't make your hands or body oily. I have even used it as lotion when dried out from a long day in the desert.
Super bummed I got this. After I wore it a few times, I looked on the label and realized it contains BOTH of the chemicals known to cause skin cancer (oxybenzone and retinol palmitate). Thanks for screwing me Aloe Up! Don't buy this garbage. Here's a link to more info about the chemicals companies are putting in sunscreen that will give you skin cancer: http://www.ewg.org/2010sunscreen