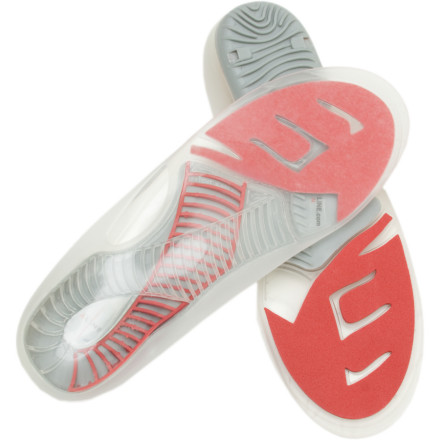 Detail Images

Community Images
ALINE's new and improved Footbeds are hailed by pro athletes from nearly every sport involving feet (yes, that's quite a few sports), and we can see why. An incredibly intricate system of suspension and support zones respond to your feet and gently hold them in proper alignment. And as any athlete can tell you, proper balance and body alignment starts from the feet up.
Support zones guide your feet through motion naturally to minimize misdirected energy and keep you on track
Rib technology compresses ribs underfoot to absorb impact and maintain proper alignment
BFAST (bilateral foot alignment suspension technology) allows natural motion and provides transverse arch support at the same time
Why do I get blisters on the bottoms of...
Why do I get blisters on the bottoms of my feet when I wear these insoles?
Hey Peggy,

Could be for lots of reasons- not the right sock combo, or more specific to the footbeds- because your soles are being realigned into an unfamiliar (but more correct) position. Try using a silk liner under a mid-heavy weight Morino wool sock and then walking when you're not so committed to having to be someplace (aka- breaking them and your feet in). It does take a little while.
Will you be getting more sizes in soon?
Will you be getting more sizes in soon?
Best Answer
Your best bet is to call or use the chat link to get an answer on this.
can the help with neuroma? Do they correct...
can the help with neuroma? Do they correct your feet?
i would venture to say that only a podiatrist or an orthopedic surgeon could help with neuroma. even if they did help, there is no way the FDA would let them say it.
I have nothing bad to say about these, they are perfect for my feet. I swap them between my ski boots, hiking boots, and cycling shoes. They work well everywhere. I've had them since last year and they don't show the slightest signs of wear. I have the size "R" and would recommend them to anyone.
Great insole for my snowboarding boots! Popped these in and my feet have never felt so good in my boots, whether it be a pow day or crusty tree lines. Highly reccomended!
Has anyone retired a pair of these..? I'm...
Has anyone retired a pair of these..? I'm wondering how many trail running miles they will last for.
I have been using constantly for 2 years and only recently have any breakdown (on the thin red EVA portion.) Super durable ...this is not an issue.
Do you know when you're gonna get some...
Do you know when you're gonna get some more size "R" insoles in?
Hey,

Unfortunately I'm not seeing any coming back in stock, sorry for the inconvenience.
I'm 31 years old and am getting back into road races (5ks, 10ks, 12ks and half marathons and next summer a Ragnar relay) and have flat flat feet. I ran cross country and long distance track in high school and college and thought my other store-purchased insoles were the best out there...until I tried Aline footbeds. It's true that the very first run feels awkward, my feet weren't used to all the amazing support. However, after just a few runs, my feet are feeling better than ever. They really help alleviate the soreness in the feet after longer-ish races. My performance is now better also, the last race I ran was a PR for me at this age, and I really feel that the proper form these footbeds give me contributed a great deal to that. Just don't let their awkwardness at first hinder you from keeping them going. It's worth it.
I'm no podiatrist, and I believe insoles are a highly personal choice, but these ones worked wonders for my feet. After a long hike with beat up hiking boots and their crappy included insoles that ended with significant knee and foot pain, I upgraded to a pair of La Sportiva Thunder's and popped these bad boys in there. Liked them so much that I switch them out for just about everything I do. The arch feels slightly raise and as others have noticed, they give a slight forward lean that feels a bit awkward at first, but the support feels great once you get used to it. That they're hard and don't absorb sweat is another nice perk. Strangely, they did stain the inside of my shoes red; I suppose if this matters to you it could be construed as a downside.

Overall, although I was a bit intimidated by the price at first, one year later I'm confident that it was well worth it.
I used these in my alpine ski boots for about a total of 2 runs...then took them out and threw them away. I had a roomate at a ski shop who said I should try them due to my knee problems and flat feet. While my roomate warned me I should get used to them at home first and that they may be a little painful, the pain I experienced only got worse on the hill. Severe discomfort, and by the second run both feet were frozen on a mild day. Also, the top of the insole would catch my foot going into the ski boot and move the insole around...not fun. Overall I think this product is a good idea but does not work well for me. Im sticking with superfeet.
While the pricetag may seem a bit high, Aline footbeds are worth every penny. While they are a bit more expensive compared to superfeet etc. they are cheap compared to a custom footbed from a ski shop or running shoe store. These have replaced my custom footbeds and seem to be better!
so whats with the letter sizes? anyone...
so whats with the letter sizes? anyone care to explain?

and for 60bux these things better make me perform like ye old "PF Flyers". You know, run faster, jump higher, gain incredible skills never before seen :)
Best Answer
I think this is one of those, "if you have to ask" sort of things. I honestly don't understand these.
Aline footbeds are designed to help correct the imperfections in the areas between the knee and the shin. I have been wearing them in my snowboard boots and they definitely help with leg fatigue and foot pains. They are designed for people who do high impact sports. The sizing for these can be interpreted through the size chart, located in the link below the drop down menu.
Normally I only go with no footbeds at all, thinking that if I just make my feet strong all will be well. However I have been spending a lot of time standing and walking on flat hard ground, which wreaks absolute hell on your knees and consequently your whole body after not too long at all, and so I got some of these aLines, which have made the problem pretty much completely go away, and I can still walk after a long day standing. Even though they are a bit more expensive than some grocery market generics, the benefit to your body is definitely worth it.
i have the old style blue ones. like the support but the hard plastic cracked as soon as i took them out of my ski boots. The forefoot is also so gripy i can only wear wool socks with them. Does any one have both the blue and red? How do the new ones compare?
After a few days they became my choice insole because: 1. they don't smell 2. retain shape over time (don't have cushion to pack out) Yeah, I've swapped em between shoes for 3 months of heavy use and they are going strong...they seem totally worth the slightly higher price.
Been using the Aline footbed for the winter, primarily in my Rendonee ski boots. They took a few outings to get used to, but once there, they really felt great! I feel they offer more stability for and control while skiing.

They are a bit grabby when putting foot into boot, which is kind of a hassle.

Bottom line: good footbed that increases performance and comfort!
A very slick footbed design that allows you to see its internal framework- a complex suspension system that provides for higher performance under foot. It is easy to maintain and extremely odor resistant, unlike other fabric based insoles. Very easy to trim and pliable with many different shoes as well as ski boots. With its orgins stemming from skiing, Aline's founder evolved the product to be applicable for any footbed usage. The benefits of this particular footbed include the alignment of the legs and ankles to create a more responsive ski/shoe, stablization underfoot for maximum performance and comfort, and its technology "suspends" your foot structures for ideal balance and control. Great footbed for anyone who enjoys the active life from walking to hiking to skiing to cycling etc.
I've been using a pair of these in my work shoes. I work at a ski shop, so I'm running around bootfitting, tuning, riding my bike to get El Salvadorian food from up the street, etc. The Alines definitely keep me supported during the day, my back doesn't get as sore as when I'm flat-footed ect.

It is a pretty aggressive design, very stiff plastic, lots of arch support. In the documentation that comes with the product you are told to expect some discomfort at first as your feet adjust to the shape, and they do indeed feel different than the many footbeds I've used.

I highly recommend giving these a shot if you like to use Superfeet or similar arch-supporting footbeds and feel like you could use even more support.

Also nice that they're a plastic-ish material, don't soak up odors like some fabric insoles do.
I have been using ALINES in my shoes for about 3 years now and they make a world of difference. Every time I use shoes that don't have ALINES in them, I am uncomfortable right away. ALINE aligns your frame to stand on your feet like you are suppose to. Great investment!
Instantly moved up two levels
I got these on recommendation of a friend of mine to go with my new Tecnica Dragon 120 ski boots. Skied day 1 w/o the Alines, then went to go get measured up at my local ski shop. The next day I went out to ski again and I felt like I was really driving the ski. My ability level jumped up at least two levels. I also added Therm-ic boot heaters to them with no issues.