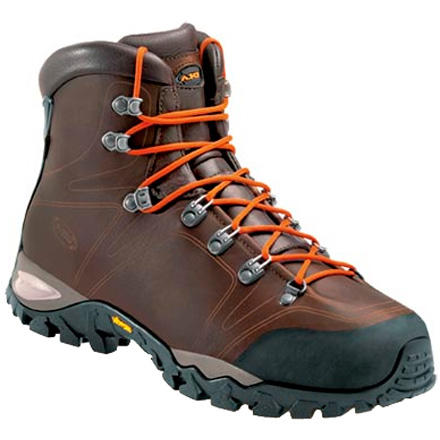 I only see size 10. Will these boots be...
I only see size 10. Will these boots be available in other sizes? I need an 11.
ask backcountry directly to see if they are getting your size in stock
Lets see these boots speak for themselves but let me say just a little. I originally saw these boots and thought well they look cool but who the heck is AKU. I did a little research and found them to be a very reputable company with over 30 years experience with a plants in Italy, Cluif Napoca and Rumania. These boots are made in Rumania according to tag and apparently hand made!!!! (Unlike Sundowners new China Facility). So I ordered them despite the 200 dollar price tag. They are incredible to say the least. The leather uppers are of the highest quality very thick which have made them a little difficult to break in but worth the work. Comfort and support are top notch as well. The vibram soles will last for quite possibly a decade or more. My last vibram soles lasted every bit of 8 years and are still going. Sizing is true perhaps a little large but makes room for thick sock. Amazing boots give em a try you won't be disappointed. Thanks for the review Mike S helped make my decision!
Got these boots as an early Christmas present from my wife. I have had the same pair of Vasque Sundowners for close to fifteen years, the tread is all but gone on them, and I was long overdue for a new pair... I was hesitant at first as I have no experience with this brand, and it's a hard decision to enter into a new long term relationship with gear that you don't know much about. I have read alot about the heartbreaking loss in quality of the Sundowners after the move to manufacturing in China, so I searched for a long time for boots that I thought might compare to the old trusty's that have been around the world with me. I have worked with Backcountry before, and I know the site has an excellent return policy, carries great gear, and customer service assured me that these boots would compare favorably- so I took the shot and got the "Megster" to order these for me for Christmas. I was like a kid in a candy shop when I opened the box. The style of these boots is what caught my eye originally, the scored leather details, the orange laces, the whole kit just looks great- and even better in person. They fit exactly how I hoped they would, true to size with enough room for nice trekking socks without compressing the heel or toe. Break in was relaively quick- a week at work walking around a hospital using the stairs instead of the elevator, and a week in Jackson Hole kicking it around town and Teton Village in the snow, slush, and ice. The leather is really starting to soften up now- about three weeks in. They are starting to feel less like a separate entity, and more and more like an extension of my foot. I absolutely love my new AKU's. No blisters, no cramping, no foot or ankle fatigue... Soles are stiff enough for most any recreational activity, and the ankles are considerably higher than my old Vasque's which yields a whole new level of support than I am used to. I am super picky about all my gear, I research constantly (at times obsessively) to find the best deals on the best gear, and it takes a lot to impress me. That said, I fully recommend these boots to anyone looking for a styley, well constructed, medium duty hiking/ trekking boot. Kudos to Backcountry for introducing me to a new friend...
Unanswered Question
can anyone speak in regards to the support...
can anyone speak in regards to the support these boots provide? At 6'1' 250lb and getting up there in years, I need a boot that offers good support to weight ratio. Wet, Northeastern trails are my normal stomping grounds so breathability and dryness are also important.
Unanswered Question
Do you have this in a 13, if not could it...
Do you have this in a 13, if not could it be ordered? AKU0003
This boots are great! They took a couple of days to break in but now there PERFECT! I do not write reviews but i had to for these boots!!!!