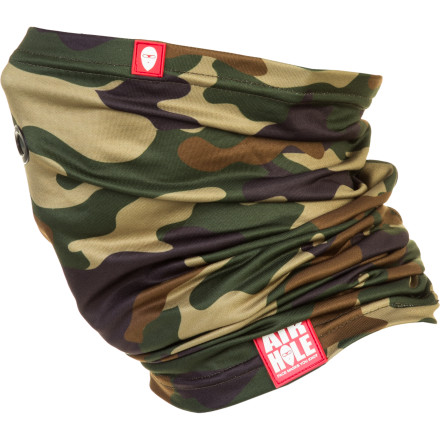 DryTech
Breathe Tech
SPF 30
Unanswered Question
Does this have an Ergonomic Pattern/shape for Fit with Goggles so they don't fog up?
I'm not particularly happy with this. It's neither warm nor well fitting. The thing constantly wants to fall down onto my lips, defeating it's own purpose. To get it to stay, you have to hike it up really far, almost to the point of being a balaclava, and put a hat on, and then not open your mouth much. It's rather uncomfortable like that and tends to get into your eyes. The alternative is to let it sit low on your nose, barely getting coverage and allowing the hole to fall onto your chin.



It's also not warm. Despite being labeled as for Snowboarding use, it's not very warm. It's more of a light wind breaker.



Finally, it's an ugly color. I got the yellow one. The thing is, in person it's more of a vomit "Green-Yellow," so it's unattractive looking.



I would not recommend this.
It's rad.
Familiarity:

I've used it several times
I use this for biking in the cold and it works really well to take the wind away. It fits really well and I can still wear my helmet. It's easy to adjust so that it only covers you ears or mouth and nose etc.

I'm definitely happy with it.
Is this basically (similar material, weight,...
Is this basically (similar material, weight, size) a Buff with a hole? I'm looking for something that is lightweight like a Buff (mainly for summer use).
Unless I'm mistaken, I think that's exactly what it is. If you're looking for something primarily for summer use, I would imagine this would be suitable, but make sure to check the fabric. According to Airhole's website, they offer their Airhole models in a number of different fabrics (i.e. Polar Fleece; Merino Wool; Featherlight; Bamboo blend), but DryTech doesn't seem to be one of them. Moreover, I also notice that their Camo version (see: http://airholefacemasks.com/portfolio/camo-3/) is different than the one listed here on BC, so I don't know if this is a variation made solely for distribution by BC or what. It lists the recommended use as being for snowboarding / skiing activities, but others before you have said they have used it in the summer with no problems, so I think you should be good.

Hope this helps.
Best Answer
Um... if you want something lightweight like a Buff for summer use.... why not just get a Buff?
Check out Seirus Innovation's "Sunthing." It's lighter weight than Buffs I've tried, and I was able to find mine very cheap online. Most people that see how useful mine is want one. Buffs are too tight for my head, Sunthings are a bit more stretchy and thin.
Why settle for cheap knock off of BUFF products when you can buy Buff here on this site? Seirus stuff is cheap, it stretches out and doesn't hold it's shape, it's got cotton in it, and it's for sure not the same quality as Buff.
I have a couple light microfiber buffs that I have worn very comfortably on the equator. I am not a buff fanboy, but it's hard to argue with the quality of their product--especially when you want something like their product.
Perfect for keeping nose and face warm!
Familiarity:

I've used it several times
I loved this airtube. It kept my nose warm while skiing and allowing me to breathe comfortably at the same time.

When not on my face, it kept my neck warm. The material is high quality and very soft. I will definitely buy another style/color for next year.
Lightweight and Versatile!
LOVE this Airtube! I used it much of last winter and it was the perfect weight for milder conditions. It's also awesome for sun protection in the summer. The material is super soft and the airhole lets you keep it on your face all the time. Definitely recommend!