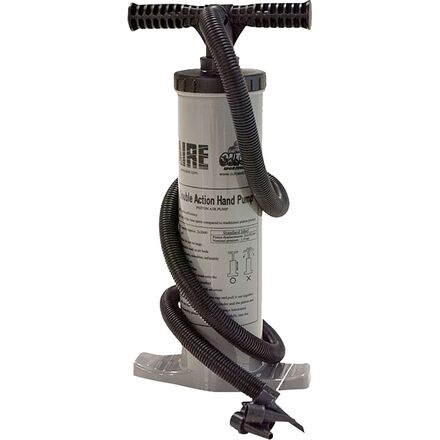 Description
Find something inflatable and pump it up with the AIRE Double Action Hand Pump.
Pump up your inflatable watercraft with the economical AIRE Double Action Hand Pump. Whitewater rafts, boats, kayaks, water wings, rubber duckies—this AIRE hand pump has multiple nozzles to inflate or top up nearly anything to the recommended pressure. Bring it along on your rafting or kayaking trip to top up on the water.
Valve adapters
Familiarity:

I've used it once or twice and have initial impressions
I bought this to fill an older Outcast fishing inflatable. Since Aire and Outcast appear to be affiliated I figured I was safe. None of the adapters fit my boat and I had to contact Outcast twice to get the adapter that I needed. Other than that the pump seems to work fine.
Unanswered Question
I bought this pump a week ago and just pucked up my Tributary raft and when I went to use the pump none of the heads fit into the valves. Am I missing something or is there an adaptor I need??
Great pump for the price!
Inexpensive, lightweight pump that will do everything for you. Think of it as your minimalist, but trusty friend.
This thing does just as it says it will do...I pumped up an inflatable boat in less than 5 mins. The only problem is after only 5 mins of pumping I actually put too much air in the boat and a seam popped on my boat.
I have owned this pump for the past two years and it is starting fall apart. The hose becomes kinked very easily. I should have gone for an NRS k pump instead.

last year I loged at least 750 miles in my Aire super Duper puma so it got it work out.
I use this pump to top off my inflatable boat and carry it on my boat for overnight camping trips that may require topping off the pressure due to pinholes or seam leaks.
This pump is small, inexpensive, and lightweight, but it is also pretty flimsy. The hose has a tendency to develop leaks, so keep duct tape handy for repairs. You have to be very careful not to torque the handle from side to side, which is easier said than done when topping off a tube behind a mountain of gear.
Small, but fills fast - super value!
I got this pump because I could'nt afford the price tag of the big Barrel pumps. I have used this pump now for about 4 years, it fills my 10' NRS raft up completely, @ 2.5 psi, in about 8 minutes. The double action is great, and its small form (19" x 9" and pumps at least 3.0 psi), fits well in the raft for long trips!! Get one!
How many pounds pressure can it produce....
How many pounds pressure can it produce........?
Not sure exactly but, I have had this pump for years and it fills my 10' NRS raft fast and tight!
Probably about 3-4 PSI. It is plenty for topping off an inflatable raft or kayak.
Great Small pump for maintaining air pressure
this pump is pretty hand when you need to cut down on the amount of room taken up. I would not recommend this pump to fill up your raft, just to maintain pressure, but it would be fine to fill up an inflateable kayak. Double action great for size and price, but again if you are filling up a raft get something bigger!