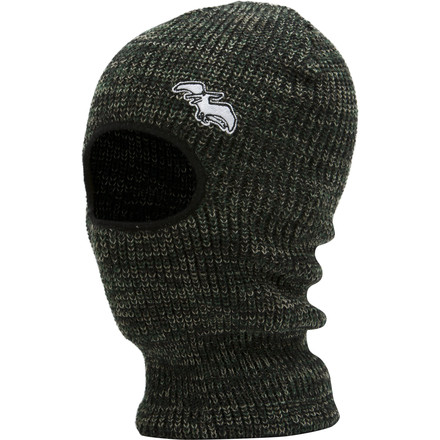 Colors

Community Images
Frostbite is lame. But so are cotton bandanas that get soaked and freeze to your face after two runs. Airblaster addresses both of these serious issues with the Terryclava Face Mask.
Avoid the frozen face
Familiarity:

I've put it through the wringer

Fit:

True to size
Airblaster's Terryclava is basically a beanie for your face with the cyclops hole for your eyes, nose and mouth. Thick enough to keep you warm and still able to fit inside a helmet if desired makes this the best bang for your buck purchase this winter to keep your face warm. The face hole is a bit small at first, but it opens up with a couple of uses and doesn't stretch out too much. If it does, throw it in the dryer to get it to be a little more snug and you'll be good to go.
Best mask I have ever had
Familiarity:

I've put it through the wringer
Breathable and warm I bought one last season loved it couldn't pass on getting another. Its great by its self or even under a helmet. Its thick and warm but doesn't limit any breathing or add discomfort in anyway I highly recommend this item.
Toasty
Familiarity:

I've used it several times

Fit:

True to size
good as balaclavas get. Keeps you toasty on the hill. A lot of facemasks claim to be breathable, but then suffocate you and fog up your goggles while hiking or riding hard. The Terryclava does neither of these. I have a smaller head but it fits perfect. Either wear it alone or with an additional beanie. Promotes fun times!
Love it - great for any day. Fits with a helmet, breathable (so your goggles don't fog up too bad), and you look like a badass. Only thing I have noticed is it gets *damp* (wouldn't call it "wet"), but still keeps your face nice n' toasty.
Everlasting.
Familiarity:

I've put it through the wringer
Holy cow. I bought this thing at the beginning of the 2011 season and have worn it practically everyday since!! I am amazed at the durability of this product. It never seems to stretch out, it keeps me warm, and the places where the exposed velcro on the inside of my helmet rub it have left little wear on the material. Face mask getting smelly? Toss it in with your next load of laundry, then use a few dryer sheets and you'll be smelling goodness the next few shreds.
My favorite balaclava.
Familiarity:

I've put it through the wringer
I have a few Terryclavas and I absolutely love them. They are warm, but not so warm you'll be sweating your ass off on the mountain. Also, this is the only place I have been able to find it in black! Would definitely recommend it. 5/5.
Honestly, i thought this would be like all the facemasks that I buy. Cluttered and leaving me miserable.

NOPE, if you hate frozen bandanas and trying to breath through small openings ( air hole ) just get this facemask.
I can breathe through it fine, blasting down the mountain, hitting jumps. Eassy.

My only complaint is sometimes i get the fuzzies in my mouth the first time I wore it. But after one wash it was fine.

If you didn't get it by now, get it its on sale its effing awesome.
Fits great and is very warm. Great for the price as well
this things perfect. keeps your face really warm. with goggles your whole head and neck is completely covered. perfect for under a helmet to, dont need anything else underneath. and it makes you look like a ninja. only thing is if you have a big head it might be a little tight and if your eyes are far apart it might cut off a small amount of your peripheral vision.
Are you thinking about buying one? DO IT!

I take this mucka lucka out on cold days, and sometimes I take it out when it's a little warmer than I thought. No worries, you can wear this thing under your chin, over your chin, over your mouth, or over your nose!

Classic style, makes you look rad, nice and breathable, and warm to boot!
The pimpest head wear you will ever own!! Super comfy! The color is spot on.
I throw it on under a helmet or ride with it alone...either way its killer!
A must need in my inventory
First of all, this mask gets the job done of what it needs done. It keeps you warm, makes you look like a ninja and goes well with everything. I got the black, but I am also considering the blue now seeing that this is some good quality. At first, it seemed a bit itchy but that's just from wearing fresh out of the package. After that, it is very comfortable and I recommend this to anyone who is looking to get a mask. Fits well with a helmet which is also a plus and the little dinosaur on the corner of the forehead is a nice addition.