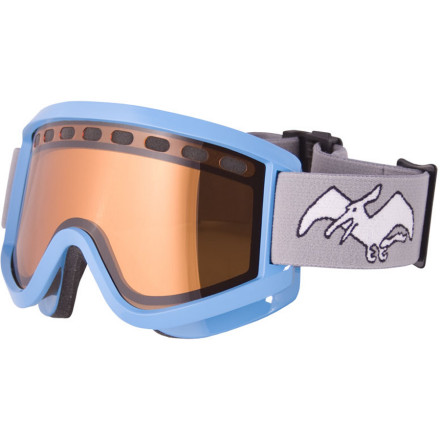 Goggle designs seem to be getting out of hand—when did everyone suddenly become so dissatisfied with their old goggles that they're willing to get new ones that make them look like fighter pilots on the mountain? Airblaster took a different approach with the Terry Goggle. The frame is wide and sits close to your face for unrestricted peripheral vision and a comfortable fit so you can see everything there is to see without all the unnecessary tech.
Baker lens has chrome coating on the outer surface of the inner lens so you can't scratch it no matter what
Moisture Impermeable Lens Function (MILF) technology allows air to pass in and out of the space between the lenses to prevent fogging
Helmet compatible so you can play it safe
Anti-fog coating keeps your lens clear
What do you think about this product?
Have questions about this product?
Are these lens replaceable?
Are these lens replaceable?
Absolutely! I do not believe we carry any replacement lenses for these, but if you find some, you can definitely swap them out easily.
While we don't carry the replacement lenses you can see them here on the Airblaster website:



http://www.myairblaster.com/collections/mens-eyewear/products/goggle-lens#.Up_0kmRDuTw