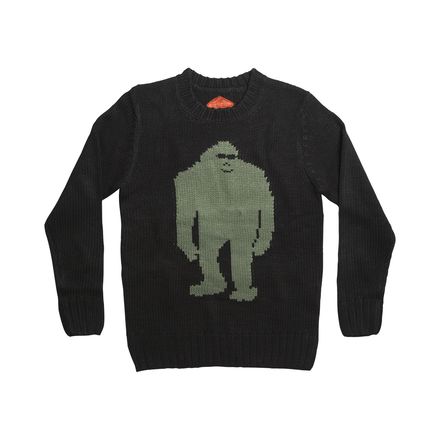 Your back hair is impressive, but it's not going to fool Bigfoot. Slip on the Airblaster Sassy Sweater, though, and you can disappear into the woods with your other yeti brethren; they won't notice you're really a human, especially if you haven't showered or shaved in few days.

What do you think about this product?
Have questions about this product?
Squatchin!
Familiarity:

I've used it several times

Fit:

True to size

Size Bought:

XL
How can you pass this up!?

I've had it on my "wish list" for what seems like forever, the price was finally right, and I made it happen!

The day it arrived (I'm a teacher and UPS gets delivered to the school) I opened it and put it on immediately, and my 5th grade students were in awe! So awesomeness-check number one was complete: 10 and 11 year old kids approved of Sassy.

Shortly after recieving the sweater I was invited to a party with a group a bit out of my usual circle. I felt that the more distinguished crowed deserved a more distinguished look than crusty Carhartts and a hoody.. so I rocked Sassy and some khakis. The humorous take really lightened the mood, and the bevvies flowed. It was a great night, and awesomeness-check numero dos was complete: non-circle friends approved, and became circle friends!

The third test was definitely the best. For Halloween this year I got a full-on Sasquatch costume (so maybe I have a thing for Sasquatch- who are you to judge!?). As Halloweens go, partying was in full swing and Nov. 1 was not exactly an A+. But showing up to our weekly Sunday Scuba Sesh promptly at nooner was made infinitely better by wearing sassy. I didn't have to completely let go of the previous day's squatch shenanigans, all while allowing the comfort of the sweater to help ease the drums inside my head.

Even the most hung-chow divers were able to crack a smile.

Was it the memory of the dance-floor-clearing Yeti vs. Sasquatch dance-off (Sasquatch ended it with a hand-stand) of the previous night?

Was it the sight of the cool gray sassy in front of the steel blue heavy knit?

I guess we will never know for sure...

But one thing is certain: This sweater kills it.

The legit deets: This sweater has a heavy knit and keeps you WARM. Super soft on the skin- not like the scratchy sweaters you wore during childhood Christmases. I got an XL and it fits nicely, i'm 6'1" and pushin 220, I'm usually right at the top end of a L or the low end of an XL for t-shirts. The sweater's got a classy collar, cuffs and waistline.