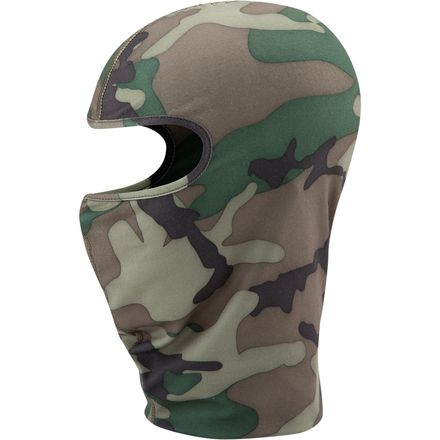 Colors

Detail Images
almost but not quite
Familiarity:

I've put it through the wringer

Fit:

True to size
Everythign is perfect about this one except for the fat seam running down the center from your upper lip and down! It's not super uncomfortable, but the seam is noticeable. This would have been perfect perfect perfect if they had made that front face piece seamless! Poorly designed in my opinion. But the fabric and fit besides that is very comfortable and functional!
pretty great
Familiarity:

I've put it through the wringer
Wore this in 50 degrees and was mad comfy, alwso wore in about 12 degrees and was just as comfy, pizza is rad and so is this mask. buy it
The seam placement on the Mask has been already irritating my lips and stuff because the seam comes right over your lips and it would be 10 x's better if it were on the back of my head
Airblaster Ninja Face Balaclava
awesome i look like a power ranger when i'm riding my bike.
Idk....Maybe I have a big dome but I couldnt even get this thing on short of it smashing my brain and pulling my hair out. I probably could have but I didnt actually get it all the way on because it was just too difficult. These things should slip right on and off with no pain. This thing made me feel like I have a ginormous head which I dont think I do. Ive had many other clavas that fit me fine in the past.
I am the Mango Ninja. Airblaster Ninja Balaclava made me so. If I am feeling less secretive on the hill, I can stretch the eye hole to reveal my mouth and nose. The colour allows my fellow ninjas to find me when I get buried in waite deep pow. That is all
the material has a nice feel on the skin, but when it wets out from high aerobic activity, it takes too long to dry compared to other similar products. this is probably because your material is more dense, and does not have enough air/loft between the synthetic fibers - which would allow the air to circulate better and therefore dry faster. so bottom line.....it works very well as a fashion statement for a Vogue magazine cover, but in the world of athletic endeavors, it fails the test.
I've had to wear this only once so far. Really good for cold, windy, snow days. It's nice and thin too, so you can still rock a beanie over it or wear it as is. Two throwing stars up!
just awesome man. awesome.