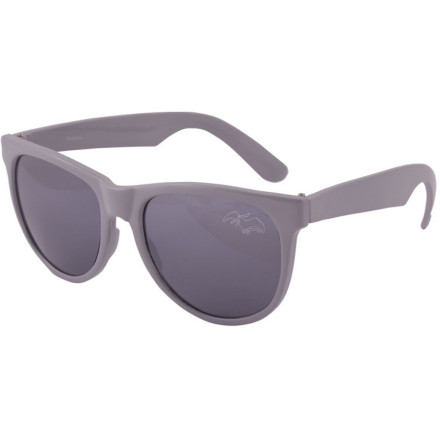 The Airblaster Airshades XL Sunglasses are ideal for (but not limited to) fitting the larger mugs of: silverback gorillas, German weightlifters, and young narwhals. These simple sunnies are also perfect for your face if you're ready to bring the party to the slopes, or vice-versa.



nothing fancy
Familiarity:

I've used it several times

Fit:

Runs small
These are OK shades. No Oakley or Smith Optics here, but are a decent pair of shades to keep around when you need them. Once on, they look good and have a big frame shape but the arms are not XL! They are long enough but really tight to get on. For less than $10 on sale though, can't expect too much. Grab a pair to keep in the car or throw in your bag when you need take off your goggles.
After reading the reviews and the description, I decided these would be a good buy. They look good, nice color, but...they aren't XL. I'm not a German weightlifter or a silverback gorilla, or large man for that matter. I'm a 5'6" tall lady with a bit of weight ( read 'chubby,' or '25 lbs to lose'), and have a large facial bone structure (substantial cheek bones) thanks to my Asian heritage from mom. So if this sounds anything like you, I'd be wary of these glasses. I feel like I'm trying to put on a pair of kiddo sunglasses. Along with this pair, I also bought the Cassette Yo! ones, and while they're snug, they fit way better than these. I could return them, but what I'll get back after the returns fee is a measly four bucks. Dang.
They aren't fantastic, but they haven't broken yet either.

I wear them every day and they fit my big ol' head perfectly fine. Typically I bend sunglasses because of my big head but these fit good. Again, they aren't Raybans, but if you're looking for disposable sunglasses that you'll get good use out of for a year or so look no further.
I finally found sun glasses that will fit my head... And they're stylish!