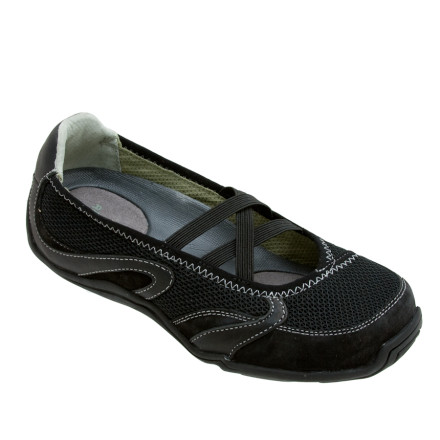 Detail Images
The Ahnu Women's Dolores Shoe takes a Mary-Jane-meets-flip-flops style to give summer footwear a whole new look. A blend of suede leather and mesh makes this shoe cool enough for scorching days and tough enough to last year after year. Ahnu used a non-marking carbon rubber sole when it created the Delores Shoe, so you don't have to worry about scuffing your floors or the deck on your friend's boat.
Comfy, but kind of stinky.
These shoes are so comfortable. I work on hard wood floors all day long and they offer great support. My feet and back feel great at the end of the day. I bought them for work shoes, but they are cute enough to wear out. My only issue is that they are a little stinky. I have never had smelly feet, so I'm pretty sure it's the shoe. Probably will need to wear socks with them.
Unanswered Question
How is the arch support in these shoes?
How is the arch support in these shoes?
I got the black ones, they are simply awesome, super comfortable, fit perfectly, the straps are not tight at all they are just great!! The black color is perfect, they look awesome with jeans!! These are one of those shoes that I could wear all day and my feet would be fine! Love them!!
cute shoes that I could walk all day in! very cushy with comfortable stretchy straps
These shoes are really comfortable. They feel a bit loose, but not so much that they flop around or come off. I love how there is plenty of room for my toes to spread out.
I got these shoes three days after I ordered them. Backcountry is great with shipping.

I love them. They were a little uncomfortable rubbing in weird spots before I broke them in. Now that they are broken in they're pretty comfortable. The heel is wide and I have wide feet so I have to walk so as to keep them on my feet. The left one also squeaks when I walk.

So, in conclusion, I really like these shoes. They also provide a great winter shoe for the New Mexico weather but there are some drawbacks.

Sizing--they are a little big. I go between a 7 and 7.5 and I ordered a 7. These are a bit big but I think a 6.5 would have been too small.
Unless you have wide feet, I can't recommend these. I wear standard width, and these shoes were just flopping all over the place. Maybe try a half size smaller than your usual? Backcountry is so good about returns that it might be worth a try. These shoes are so cute and comfy -- I really wanted them to work out! Would be perfect for foreign travel.
I just received these shoes yesterday, so I haven't had a chance to really try them out -- but they are great looking and SUPER comfortable!! I usually wear a 5.5, but I tried the 6 (since this is the smallest size available). The elastic helps keep them on my feet. If I go up on my toes, the shoes slip off, but if I'm just walking around, they stay on. They are a bit wider than most of my shoes, but again, the elastic keeps everything in place. There is a lot of arch support, which is fantastic! These truly feel like slippers, but still look great! I don't think I will take them off for a while.
I just received these shoes and couldn't be happier! They are incredibly comfortable, with ample room in the toe box. The elastic on top did leave a mark on my foot, but after having worn them all day it never felt uncomfortable. I would consider them true to size and maybe slightly wider than a typical shoe. I have wide feet and these shoes fit me like a glove. I am very picky about the style and "cute" factor of shoes, and these definitely deliver!
These shoes feel amazing when I walk but, when I sit (while traveling in South Africa, for ex. on long flight) the elastic straps become very tight and there is no way to adjust them. I don't have wide feet , I have a very normal 8 1/2 foot, but they do hurt my feet. Walking feels great but when I stop and am not moving the elastic just pulls down on my foot and makes it hurt.

The fit was great too, so I love these shoes but I just wish the elastic wasn't made so tight.
I just love these shoes. I have a hard time finding cute, comfortable shoes that don't tear up the back of my ankles. I travel to a lot of different countries and need a pair of shoes that would be cute for city travel and handle village roads. . . I am going to buy another pair!
Ordered both Thistle and Blade Green in 9.5, my foot measures 26.25cm. I kept them for gifts - both of my sister-in-laws are in LOVE! They did fit, however I am expecting baby #2 and since my feet "grew" last time I really want/need comfort so ordered a 10 which will be perfect considering the circumstances. Hope the above measurement in cm helps you decide which size will work for you! Oh and if you have a narrow foot, then these shoes will be perfect - wides may want to try the Benicia style.
Is the insert removeable?
Is the insert removeable?
I bought these shoes for a trip where we were doing a lot of walking. These shoes feel like slippers on my feet, but give great support. An added bounus is that they are so darn cute! Everyone keeps asking where I got them, and I'm glad to pass on the backcountry.com website to them. If you're looking for a great walking shoe with a lot of style, this is the one!
I love this shoe. An 8 was too small, an 8-1/2 was too big, the next pair of size 8 is just right. ? In any event, I wear this shoe all day and my feet are happy. (on the black shoes, the red in the inside heel does tend to wear off on your feet the first couple of times that you wear them, but after that you're good to go.)
I wear a size 39 will a size 8 work for...
I wear a size 39 will a size 8 work for me?
According to the sizing chart, it will indeed. Of course, every company is a bit different in terms of size, but really the best you can do is to assume that the sizing chart works.
I bought them for my wife who is a school teacher with some heel problems and they are perfect for her. No foot pain at the end of the day, and they look great!
I bought these shoes to waitress in and i spend all day on my feet and they still feel good! The insole is like a running shoe it is so cushy. They are the best!!!!!!!!!!
These look way better on a foot than they do in the pic. I've gotten tons of compliments already! I got the green color and I am in love. Feel like a running shoe, but look like a fun, stylish, casual slide. I think they'd be great for travel, but until then they'll just be my super cute standby.