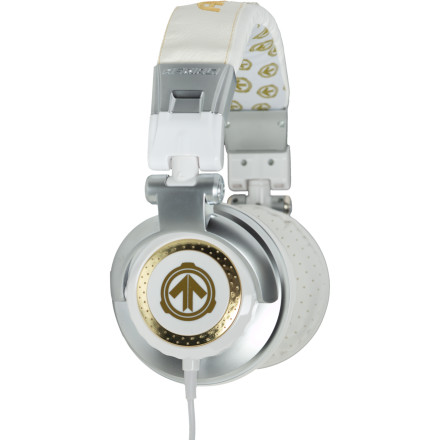 The Aerial7 Tank Headphones come locked and loaded with massive 57mm drivers designed to launch salvos of sonic awesomeness directly into your brain. These DJ-style headphones transition from booth duty to everyday life, thanks to included 1/4-inch and iPhone adapters.
57mm powered drivers for high-quality audio with plenty of low-end punch
Swiveling, spring-loaded ear cups allow single-ear DJ monitoring
Includes coiled studio-style cable, and thinner phone cable with inline mic
Total Piece of S#$%
Familiarity:

I've put it through the wringer
I have had three of these now and have had to warrantee all three. Terrible quality. Thanks for the help though backcountry.com you made everything right in the end.
low quality product w/out cust. support
Familiarity:

I've used it once or twice and have initial impressions
bought two sets of Aerial7 Tank headphones for xmas gifts 2012. One pair had a short in the cord right out of the packaging. The other lasted a few months of gentle use at in my home office and then the right ear stopped functioning making the headphones pretty useless.

I called backcountry who would not allow return because their 30 day return policy had expired since I had purchased a couple months before the gifts were received for Christmas. They suggested I contact the manufacturer, which I looked up on their website. I sent numerous emails to without receiving any response.



After purchasing two sets of headphones from Backcountry and Aerial7 I must say I am shocked and surprised I could not find a remedy through either.

After shopping through backcountry for years while advocating their site to many I am now a disgruntled customer who no longer even wants to where my backcountry t shirts.


Poor/No Customer Service
Familiarity:

I've used it several times
I purchased a pair of the Aerial7 Tank headphones at a DJ convention after being assured that they are high quality. They look cool and sounded better than the ones I had been using to DJ, so I made the investment. I particularly liked the swiveling ear cups, which was the deciding factor for me. Unfortunately, after less than 2 months of light use (and being very careful with my use and storage of them) I no longer got any sound on the right side. It took me a while to track down the company contact info, but contacted them both by email and through an online contact form about the issue...and got ZERO response. Had these worked as I was promised (longer than 2 months) or had I received decent customer service, I would have rated these much higher, but for the price, they should last MUCH longer!
Decent sound, cool looking, comfortable, however, poor quality
I bought these headphones a little over a year ago. I liked them a lot and I thought the sound quality was pretty decent. However, about 2 months ago, the audio in the right earphone stopped working. I was getting no sound at all from that side. I haven't used them that much or abused them in anyway so I was surprised that they would stop working. Unfortunately this problem happened a couple months outside the 1 year warranty. I sent Aerial7 an e-mail regarding the issue to see if they could be replaced. I have not heard from them at all. I ended up sending three e-mails to their warranty service but still no reply from them. Overall their customer service sucks and I can't recommend these headphones. Maybe I was just unlucky but I'm not too happy and the quality is not great to be honest. FYI, I didn't buy these headphones from Dogfunk but from another website since I've been living in Australia and the shipping rates are bit overpriced on Dogfunk for shipping things here.
Unanswered Question
Is the frequency response really 5Hz -...
Is the frequency response really 5Hz - 20kHz? I don't think that's possible with those 57mm drivers.
same crappy sound as SC. maybe slightly better construction. tinny, muffled sound and bulky uncomfortable construction. felt like they would leap off my head at any moment that's how ill fitting they are.

if you're using these as a fashion accessory you might be satisfied but if you plan to actually use them for beats forget it. i'll give them an extra star for having a coiled cable but even that's a stretch.
The quality of this headphone will blow you away. The 57mm driver delivers big sound with balance. The new Tanks from A7 are comfortable and I use them for travel, and skype. Last week my neighbor was resurfacing a concrete path and my Tank headphones even blocked the noise from the annoying machines outside. I like the option of getting 2 cords for different activities.