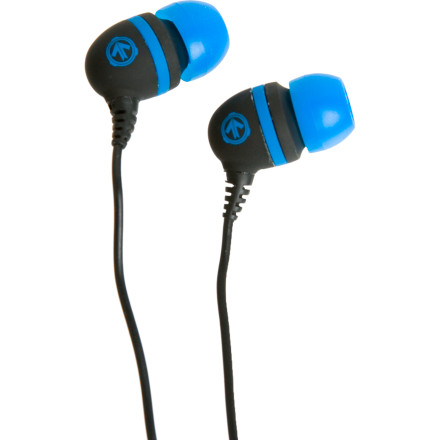 Rock out to big sound in a deceptively small package with the Aerial 7 Sumo Earbud Headphones. The Sumo's 16-ohm impedance, 20-20,000 Hz frequency response blows away stock earbuds and provides a hefty dose of colorful good looks, too. A built-in microphone is included for use with mobile phones, and the headphones come with ear gels in three sizes for a custom fit.
These are alright ear buds. The sound quality is good, and the multiple ear gels are nice for getting a better fit. But they still make my ears sore after some constant listening time (couple hours, maybe). For the price, I'll keep them around.
What? I cant hear you... speak up! Whatever man, I'ma go shred.
Killer in ear headphones-noise canceling, has mic so you can make phone calls-the real deal. Sikk color combos too. Sound quality rocks.
is there volume control or a button on the...
is there volume control or a button on the cord to answer phone calls/etc?
It has the phone mic so you can make calls but no volume contol.
i love the headphones.
they are so cool.
lol now i like pink
I compared them to my skull candy buds, and the bass is pretty much the same. Less vibratey than the skull candy, and you know that annoying sound skull candy's cords make when your walking around and they carry the sound of the cords to your ears? These headphones make the same noise, but not as bad as skull candy. I think these headphones are pretty cool though. I loveeee the colors and they do have a noise canceling effect when you put them in.
My friend saw my AERIAL7 Tanks and bought these cuz he likes earbuds better. I tried them out today and they are sick!