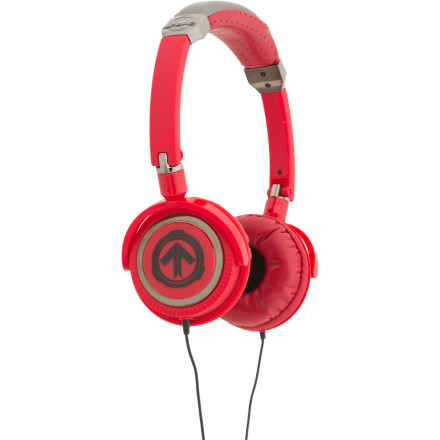 If you're looking for massive sound in a small, convenient package, check out the Phoenix Headphones from Aerial7. Aerial7 stacked these phones with a reinforced frame, a fully adjustable headband, and super-plush ear cushions to enhance your listening pleasure. The integrated swivel ear cup allows single-sided monitoring and beat-matching when spinning. Pop its standard 3.5mm plug into your music player and head out for an afternoon of jammin' in a beautiful state of oblivion.
Slim-profile, in-line microphone for use with cell phones and media players
Thin cable decreases bulk, weight, and downward pull on headphone
Includes Skype adaptor for VoIP calls on your PC
6.3mm (1/4in) adaptor makes the Phoenix work with professional audio devices
'Artistry of Sound'
Familiarity:

I've used it several times
These headphones are awesome and the sound quality is high, almost that depends of your mp3 player also. The Aerial7 Phoenix are very confortable in your head and in your pack because you can reduce its size to put in your bag. Great headphones! (And they come with a nice bag!)
Comfort & Quality
Gender:

Male

Familiarity:

I've put it through the wringer
I've had these headphones for since march 2012 and haven't had a problem with them. These headphones can bump and the sound quality is very high. The Aerial7 Phoenix headphones extremely comfortable for an overhead headphones too. It has a built in microphone so if you're listening to music on your iphone/droid and you get an incoming call, just one tap of a button answer the call. Overall, I am very satisfied with these and would definitely recommend them.
Here is a cool lifestyle video I found on the Aerial7 Phoenix headphones...

http://www.youtube.com/watch?v=IDpQsGT_SiE&feature=youtu.be
Write your question here...DO THESE WORK...
Write your question here...DO THESE WORK WITH AN IPOD OR IPAD?
Yes they should work fine.
yes they will work great. you can answer calls with one click on the button found by the mic. 2 clicks to skip forward song and 3 clicks to go back a song. pretty dope and awesome sound quality
These headphones add sick style to your life. only problem is they let out too much noise. I had it on roughly half volume and a bro was saying it sounded as if it was loud as f***. But I could have gotten a bad pair, who knows. All in all they're still dope and I love em
well, after less than a 3 week usage, the wire in one of my phones was damaged ( wires inside the phones are the pretty slim so even the slightest pull can cut them loose)....after reading all the reviews and seeing how people weresatisfied with them, I on the other hand wasn`t, they play good and all ( bass is nice ) but I guess they delivered me the low quality ones....
I guess that this was my last order from dogfunk, ordering clothes is pretty ok but anything else like headphones is out of the question for me...will have to manage and repair it somehow at home
Cool design & Crisp sound
Just got the Phoneix storm mainly cuz I wanted a sick pair of headphones to shred with, but beyond the cool design, these headphones are awesome! They're fit pretty comfortably, sound is crisp, and they have this microphone/button that lets you talk on the phone (if you use that to play music with, which I do) and even pause, play, and skip music with that button right by the microphone. So I never had to reach for my iphone once on the mountain. Great feature for those cold windy days when you dont want to take your glove off to answer that phone call :)
will these fit under a helmet? i know the...
will these fit under a helmet? i know the top of the frame is cusion but is the rest of it thin or pretty thick?
Best Answer
These would probably not be the best to wear under your helmet, they are great to wear over a beanie though. For under a helmet, I would recommend the sound disc beanie. Hope that helps!
you can get the sound disk beanie and you can take the sound disks out of your beanie when you shred and you can put them in your helmet ear flaps, if it is audio compatible. you can always use the beanies under as well with the sound disks kept in.
The skullcandy Low Riders are very similar, except these are much more superior! These have AMAZING sound quality!!!! AMAZING BASE! AMAZING EVERYTHING! there super comfy! I have been sick and tired of not finding styling headphones to compete with skull candy, FINALLY! i can buy some quality headphones!
So.. disregarding size, how does these...
So.. disregarding size, how does these differ from the Tank headphones?
There really is not much of a difference, The only thing is the noise cancelation, These wont have as much as you want because there "On Ear" Head phones, not "Over Ear" head phones, thats about all. A good buy! i would reccomend
overall they sound a little bit cleaner than the tanks just a little bit
Also, the Tank comes with a 57mm driver vs the phoenix has a 44mm driver. The phoenix is lighter than the tank so depending on your use for it that could be a factor.
the tanks have a large sound output (awesome bass!) and the ear pads are super cushy and seal around your ear so you get amazing sound canceling properties. I am wearing the phoenixes now and they are dope...but I also LOVE my tanks!
these headphones deliver!
don't let the small, compact size fool you. these headphones deliver huge sound!

come in cool funky colors
I got the Phoenix Storm a few weeks back and they are awesome! The over ear fit is comfy and the sound quality rocks! Crystal clear highs, mids, and lows. Definitely a must for music on the go.
They sound amazing and are soooooo comfortable! And with so many cool color options you can wear them shredding or out and about.
Are they adjustable for kids age 13?
Are they adjustable for kids age 13?
Yes, perfect for adults and kids alike. They are not huge and the fit would be great for a 13 year old.
I would recommend:
http://www.dogfunk.com/aerial7-arcade-headphone-kids

These are built for kids! 40mm driver output...awesome sound quality. they have AVR technology which automatically adjusts the volume to a safe 85db in case the volume accidentally gets turned up unexpectedly, to protect those young eardrums in one piece.