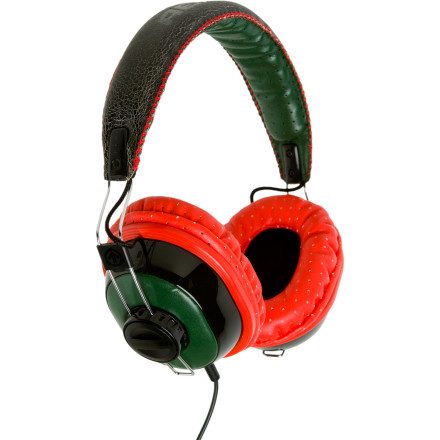 Detail Images

Community Images
Let the music pulse through your temporal lobe with the Aerial7 Chopper2 Headphones. Quality sound exceeds expectations for the snobbiest of headphone snobs. The Chopper2 are compatible with all your tech gadgets so you can push weight at the gym, lock yourself in your room with your tunes, melt faces in the club, or get on a video conference with your long-distance partner.
Compatible adapters for iPhone, iPod, Blackberry, Skype ,and other cell phones and MP3 players
Low-profile and intuitive inline microphone compatible with iPhone
Adjustable wire band for all head sizes—yeah, even you, big head guy
they fit my odd-shaped head
Familiarity:

I've used it several times
i have a tough time finding sunglasses and headphones, and i can't wear cute headbands. these headphones have a bendable wire band, like the description says, and it's nicely padded. i got these for work for when it's noisy, and though they're not noise-cancelling, they do the job well. hallelujah.
Really comfy
Gender:

Female

Familiarity:

I've used it several times
The sound on these is excellent. I primarly use these so I can jam on my keyboard at night, and the padding makes it so they never get uncomfortable. When/if I ever do use them on my IPhone, everyone else can hear them as well. They are a little big for me so that could be why. Either way I really have enjoyed them so far.
Great headphones. Fairly lightweight. This plus the generous amount of padding makes them really comfortable.
I use headphones almost daily with my iPad (so not to disturb my hubby when I'm watching videos). These are the best I've ever used - the sound quality is great and they are comfy on my little ears. Love 'em!
These Aerial7 Chopper2 headphones are the recent edition of Aerial7's original Chopper headphones. Not much changed as far as the build goes from last year, just a few new colors for this season.

The headphones are basically what you pay for. The build is not as solid as some of the higher-end headphones and the bass is a little weak compared to some of the more expensive models, but overall they get the job done and leave you smilin' because you have sick tunes pumpin' in your ears.

The style is sweet. You can't beat lookin' like you're riding copilot in a Black Hawk while you're walking around campus. Who knows, maybe you'll even get air force recruiters on your tail pleading you to be their new poster boy.

Yeah, you'll look that good.
For the price, these headphones are pretty awesome. Improved fit over the regular choppers, nice cushy earpads that are actually over-the-ear (unless you have very large ears), and the sound quality is pretty good to boot.. I like these a lot more than any of similarly-priced skullcandys I have owned, and they have already outlasted them as well. These are good headphones for the price, but if you can get a deal on these anywhere, definitely pick some up.
great for non-powered headphones
i love these! they sound great. the bass is a little crappy on certain rap songs, but then again these are not powered speakers. you're going to need to buy headphones for like $250 to get better bass.
highs and mids are amazing, but the bass just doesn't match. Not that it doesn't have any, but just not enough. If I hadn't got it off whiskey for so cheap, these would definitely be going back. I don't know why but the bass is alright with my ipod but terrible with my iphone.

other than that the sound-cancelling is decent, they are super light, and they look sick.
Unanswered Question
How are these different than the Aerial7...
How are these different than the Aerial7 Choppers?
Just fyi the title says heaphones not headphones :)

these puppies look sick though.
Great Fit and Excellent Noise Blockage
These headphones are super comfy and do a great job of blocking external noise.
These babies are well worth the cost. I bought them on a whim because I liked the style but was totally blown away by the sound quality. I believe they are rebranded panasonic RP-HTX7, which have been acclaimed for years. I disagree with some of the other reviewers, I never found bass to be lacking and I listen to a fair bit of hip-hop. I had to go up to a $200 pair of Audio-Technica ATH-M50s before finding cans that were noticeably better than these. Definitely recommended for the cost, or for a relatively cheap pair of over-ears that you can travel with (they're super lightweight).
These headphones are amazing. The sound quality is great from bass through to the treble. The ear cups are nice and soft and fit just over your ears. The mic option is great even just for pausing you music while leaving your mp3 player in your pocket. Besides the sound, the best thing about them is that they're super lightweight - no neck pain after hours of listening. (Trust me, I had a pair of audio technicas that killed).

Just buy 'em.
Very durable and stylish. Only grip is that cans don't spin 180 degrees but no big deal. Very comfortable and cover entire ear. Good bass and solid sound. 5/5
Worth the money- I suggest Mojave color
These are nice and comfy, but have no bass. Like none. Nice gadgets and design and all....but just no bass.