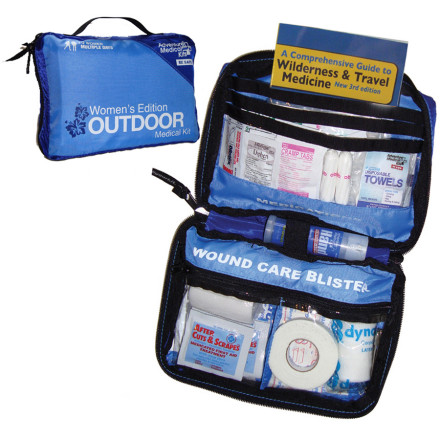 Before embarking into the backcountry, make sure you're prepared with the Adventure Medical Kits Women's Edition Outdoor First Aid Kit. This comprehensive kit includes extra feminine supplies and a guide to wilderness travel and medicine.
Six one-inch by three-inch adhesive fabric bandages
Two adhesive fabric knuckle bandage
Three Butterfly closure bandages
One two-inch conforming gauze bandage
Two two-inch by two-inch sterile dressing gauze pads
Two four-inch by four-inch sterile dressing gauze pads
One three-inch by four-inch piece of sterile non-adherent dressing gauze
One two-inch by three-inch piece of sterile non-adherent dressing gauze
One pair nitrile gloves
One large and one small GlacierGel
11 pieces of precut and shaped moleskin
One two-inch elastic touch-fasten bandage
Four safety pins
Splinter picker/tick remover forceps
Comprehensive Guide to Wilderness & Travel Medicine
Acetaminophen (500 mg, 2 per pkg.)
After Bite wipe
Antihistamine (diphenhydramine 25 mg)
Diamode (loperamide HCI 2 mg, 1 per pkg.)
Diotame (bismuth subsalicylate, 2 per pkg.)
Ibuprofen (200 mg, 2 per pkg.)
0.5 oz. alcohol-free hand sanitizer
Blistex lip moisturizer
I've had this kit for 3 years and just keep replenishing the items used. It's easy to keep light even though you've stuffed it.. I do wish the top half where the book goes had a snap or velco, so when you open it the stuff doesn't come falling out of the pocket... But it's easy to find in my pack and keeps all I need and a little extra. (I did replace the feminine products with "brands you can trust".. but other than that works just grand..