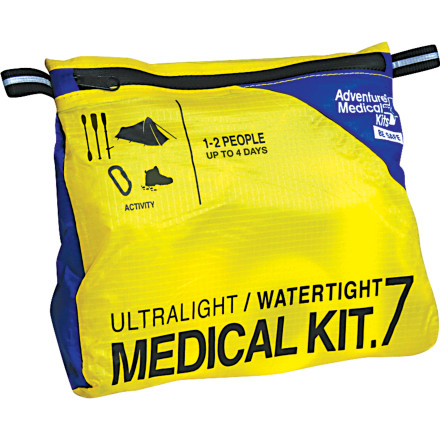 Detail Images

Community Images
Description
A lot of care in a small package.
The Adventure Medical Ultralight & Watertight .7 First Aid Kit loads essential first aid supplies into a packable, nearly weightless, waterproof kit so whether you are over-nighting in the San Juan Islands or knocking out a few miles of foothill hiking, you can be prepared.
Snag A Med Kit, It's Worth Peace of Mind
Great Value. Don't see what ya want? Buy it from the drug store and stuff it in the sack.

Don't forget sleeping pills (a must for me when backpacking).
Love it
Familiarity:

I've put it through the wringer
This is a must take for short camping and short backpacking trips because this shouldn't be relied on for major incidents but for minor mishaps. Its a must for short trips.
Always Pack This.
Familiarity:

I've put it through the wringer
This a super handy kit I always carry with me on hiking and kayaking trips, it doesn't take up much room and has the essentials for minor mishaps, I never leave home without it.
I picked this up as a replacement for a very basic kit I purchased a few months ago, and I'm stoked. It's a little bit bigger, but the size is worth the additional goods AND the waterproofing that's included with this. It's very easy to pack and flatten down, and comes with the basic essentials for going out on adventures. The only thing I beefed up was a few more bandaids- never know when you'll need them! Hands down one of the best basic med kits I have found, and I love that it's waterproof too
Excellent kit for outdoor.
Familiarity:

I've used it once or twice and have initial impressions
This kit is very light and contains essential gear.

Also this has great waterproof bag, well tightened zip and makes it easy to throw in the pack and car for every outdoor activity.
There when you need it
Familiarity:

I've put it through the wringer
I bought this initially for just kayaking, but soon took it just about everywhere with me. Its been kayaking, backpacking, at the beach, in my truck for a while, and then just this past week I had to use it camping. I sliced halfway into my thumb with a filet knife and immediately ran for this, once I got the bleeding stopped the duct tape and cloture strips made sure the rest of my week of camping didn't entail a hospital visit. The duct tape is really a well thought out addition. The only thing I added were a couple packs of matches and some Aleve and now it's perfect!
Awesome kit- easy to pack
Familiarity:

I've put it through the wringer
I just used one of these kits during an expedition to Greenland- it was super lightweight and easy to fit (to the point that I sometimes forgot where I had stored it in my pack.



Has all the necessities and some great options for dealing with blisters.
I picked up this first aid kit to stash in my packs while backcountry skiing, biking, and hiking. Very happy with the size/weight, selection, and price. If this one's too big or too small for you needs, be sure to check out Adventure Medical's other products as they have great variety of kits.
Very Portable Kit
Familiarity:

I've used it several times
This kit has what you need for basic first aid needs and can go pretty much anywhere with you. It should take care of most cuts, bruises, and sprains that an outdoor trip can throw at you. It is roughly the same size of a nalgene and has room to put a little more in it. I've added some extra standard ban-aids, some more alcohol swabs, and some more gauze which all fit easily.
Excellent Lightweight Kit
Familiarity:

I've used it several times
I have had this kit for a little while now and its great! Its not too heavy at under a half pound. My scale weighed it at 6.5 ounces. There is a little bit of everything in here. Take a look at my video below reviewing the kit to find out exactly what this kit includes.
A fairly complete kit.
Familiarity:

I've used it once or twice and have initial impressions
I haven't had the need to actually use any of the components but this is one of the better put together kits I've seen. It is truly ultralight and watertight. I even let it roll around a bit in the crashing waves on a lakeshore and found everything inside to be 100% dry. This is a very packable size kit as well.
This kit is so lightweight yet contains so much. Great waterproof bag, well thought out. Makes it easy to throw in the pack/yak/car for every outing. Get one
I have seen some people complain about this kit (and the .9 and .5) not having any organization and things of that sort. Well I guess they don't understand that this is an ULTRALIGHT first aid kit. with all UL equipment you won't have any nice features like pockets for organizing supplies or anything like that. If you want organization you should look into AMK's Mountain Series. This kit is for someone who wants to have a nicely stocked first aid kit but doesn't want unnecessary weight from it. This is not a first aid kit to keep in your car this is a kit to put in your pack.

There is extra room to add some things that might have been overlooked. I have seen a few people mentioned adding more things for blisters. With this kit there is room to throw in AMK's Blister Medic into the outer bag. The advantage of this is all your blister treatment things are right at hand in a bag so you can just pull out the blister stuff(adding a little organization). There isn't too much extra room though, for example you won't be able to add a SAM splint but you can easily improvise splints in the backcountry.

Overall this is a great kit for people who want a light weight kit that still has all the essentials.
great kit for small adventures
this kit is great for small adventures but is in-between sizes so it has some things but not a lot of other necessities. we have both the .5 and .7 along with a larger kit. I personnally like to have many kits that I can store in multiple locations to access quickly so buying this is more of an insurance policy. we added additional band-aids and some moleskin and more alcohol wipes. be prepared to do that but one gets a great start by getting one of these bags. this is worth the price if you are out and about and have kids.
Ultralight/Watertight .7 by Adventure Medical Kits
AMK Co-Founder Frank Meyer shows you the Ultralight / Watertight .7, the preferred kit of professional adventure racers around the world. With its double-layer waterproof protection, this is the kit to use whenever exposure to the elements is an issue.

good basic kit. I thought the .9 would be too big but now wish that I got it instead. I like to put other non medical items in the water proof bag so a bigger bag would have been handy for me.
I got this to throw in my ski pack its great, its got most of the essentials and doesn't take up a lot of room.
Great little kit perfect for day to multiday adventures. The kit has everything you need in a water tight package.