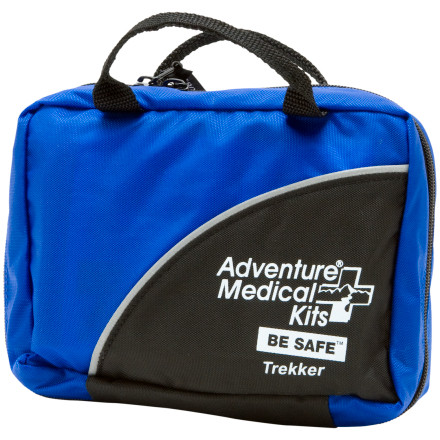 Detail Images
Awesome first aid!!!
Familiarity:

I've used it several times
We use this first aid kit for our RAZOR!!!! It is the perfect size. Has the necessary equipment in it for fixing injuries. Right price as well.
Don't waste your money on more expensive
Don't waste your money on more expensive 200+ piece kits- they are usually the same thing for the most part with 150 more band aids. I am currently in med school chasing my dream of becoming an EM doc and I used this kit for years while guiding on the Colorado river. This is a very good sized bag and built well enough that I never had it rip on me. I took out most of the band aids and added other things I thought I'd use. Some of the larger things I fit in here included a cpr mask, folded SAM splint, sterile saline eye squirter and a roll of waterproof tape.



Don't just buy a first aid kit and call it good, make sure you know what tools are in it and how to use them. If you ever think of something you needed or may need, add it. Protect your kit with at least a cheap OR dry bag and it will last you a long time.
got it all
Familiarity:

I've put it through the wringer
Great for ski trips, paddle trips, hikes, all of the above... its always in my pack!
I've been a firefighter/paramedic and Emergency Dept. RN for the past 24 years.

This particular kit, I picked up back when they were in stock for that super price.

This kit has pretty much everything for a day on the trail or outdoor activity.

I added a few more wound care items, as I removed the book, which by the way is super! Lot of information in a small portable guide.

BC needs more of these in stock! I defiantly will buy more.
For only 17 bucks it was an extremely good deal. Has everything I would need and it comes with a book explaining many different things concerning first aid.
I shouldn't have said anything...
Instead of lowering the SAC price they rose the backcountry price by 9 bucks! lol sorry to anyone buying this. Although, I will say I own one of these myself and I think even at the sale price listed it's well worth it. Lots of good stuff in there. But if you wanna get it cheaper it's in the Steepandcheap line-up right now for a killer price.
On sale, it's worth it. Full price, put you're own together from scratch. I have a larger more comprehensive kit I built myself with stuff I bought on amazon. This kit has some really useful bits, is compact, and I now bring it with me every time I go on any road trip. As someone else mentioned, the little survival book is probably the best part and definitely will occupy you in your tent... just try not to think about all the injuries it covers on your climb the next day!
Feeling dooped
Gender:

Male

Familiarity:

I've used it several times
I just saw this same exact medical kit on steepandcheap.com for 19.98, and here for 17.95! The whole premise of steepandcheap is that you get stuff at the lowest price possible for just a small window. I wonder how often that happens. Now I'm gonna check all my steepandcheap purchases first...
I keep it in my pack when i XC bike with a sizable group. It most definitely comes in handy and has all of the essentials.
This little guy came with me on a backpacking trip and really saved the day. the GF got blisters and the Mole skin was a life saver. It also helped to kill time. We were having a hard time falling asleep so we started quizzing each other from the medical guide book that is included. I never knew that if you need to keep a victims tongue out, it was cool to safety pin it to their lip.
Great kit. It's amazing how much usefull stuff they can cram into a 1 lbs pouch. I leave it in my truck and plan and using it for weekend camping/backpacking trips. Inside the pouch they also include a spreadhsheet of the kit's contents and order #'s so you can easily refill.
Well thought out, a bargain for what's in it.
I looked around for a while to find a medical kit for all my adventures and finally decided that I need more than just one kit. The Trekker is perfect for weekend backpacking trips, biking, hiking etc. Light and practical. I ended up buying a Comprehensive Kit for my larger expeditions and Ultralite .7 for when I'm adventure racing. These guys make the best kits out there. Never been let down. Oh forgot to mention Dr Weiss's Book in the kit has and will save your hind!!