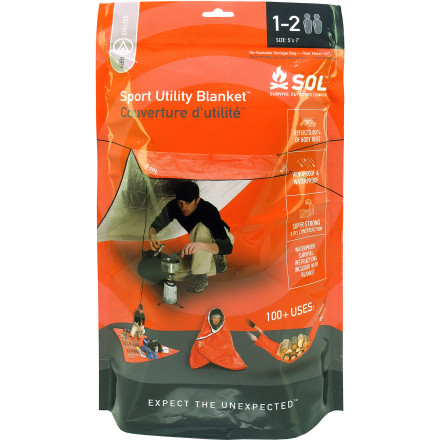 Description
A blankie your parents won't throw away.
Versatile, reusable, and invaluable in emergencies, the Adventure Medical SOL Sport Utility Blanket reflects 80 percent of your body's heat if you're immobile and without a shelter in the falling temps. From emergency bivy to picnic blanket, this handy puncture-resistant blanket features six grommets for rigging, survival instructions, and has a bright orange side for signaling help when in a tight spot.
So its like 2 oz lighter than the old school 10 year old beat to hell space blanket that I thought it was going to replace. But after opening the package up it stunk the whole living room up with this horrible chemical smell. It then went outside where it continues to stink noticeably almost 2 weeks later, maybe it will offgas in a month or so, otherwise its home will be the woodpile, I will get another space blanket from REI.
SOL Sport Utility Blanket
Different but the same...
So I'll just jump right in and get to my biggest point. This great piece of camping equipment. Very functional! BUT!!!! I did a lot of research before getting one and noticed that there are two, maybe more, variations from SOL. In some videos and pictures I have seen there are 4 grommets (one on each corner) and a black hem around the blanket. In others I thought I saw no hem and then after purchasing found no hem and actually 6 grommets (two additional midway down the 7ft side). Regardless...this thing is great. It won't last forever, but for what you pay for it I'd say you get 3 or 4 times its value. So no worries about the variations in production...and I am very happy about the two extra grommets that are not mentioned, pictured, or maybe not included with some of them. A great piece of versatile gear for a good price, regardless of which version you end up with.
SOL Sport Utility Blanket