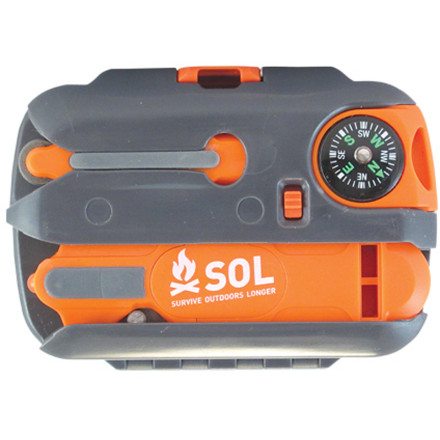 Detail Images
Description
Makes surviving out in the wilderness a whole lot easier.
You've always been good at reading maps and finding your way around in the wilderness, but for the first time ever you find yourself lost. Good thing you stuffed the Adventure Medical SOL Origin Kit in your pack. You never know when the goods in the Origin ―such as the Rescue Flash Signal Mirror which features 20-mile signal power―could come in handy. Its 10-lumen LED light also provides powerful task lightning when you're setting up camp for the night.
An extremely lightweight and durable ABS-plastic waterproof case protects an array of key survival tools
An AUS 8 steel blade with lockable liner is harder, holds an edge longer, and sharpens easier than common steel
A pea-less and fail-safe whistle up to 100db helps alert rescuers close by of your location
A removable directional compass helps you locate your way
A 10ft stainless steel wire, 10ft nylon cord, foil, tinder, and survival instructions helps you stay alive and find your way home
Great when you are S*** Out of Luck.
My favorite part of this kit is the removable surgical knife with an LED light on the handle. This kit is light enough to be a must carry and is always in my pack.
Get Out There Magazine reporter Drew took the SOL Origin out into the bush on a recent adventure. Here's what he had to say about this handy tool.
This little box has it all. If i bring nothing else with me on a hike I know my chances if things go bad are 5x better with this than without it. I think there's no coincidence that the guy pictured in the manual looks like Chuck Norris 'cause like him it's ready for anything and everything.
Review of the Sol Origin Survival Kit
BackpackersReview.com review of the Sol Origin Survival Kit by Adventure Medical Kits
This is truly a great little survival kit. It weighs only 6.5 ounces and comes in a waterproof case. It also comes with a little survival manual. You may want to add to it, but I really like this kit. See my complete video review at:
http://www.backpackersreview.com/gear-reviews/everything-else/76-sol-origin-survival-kit
Great Little all in one Survival Tool
Great little survival tool. It has just about everything that you need. Knife, light, whistle, tinder, fire starter, cord, foil, mirror, fishing supplies, compass. If you want an all in one hard case survival tool this is a great option.
how much does it weigh & what are...
how much does it weigh & what are dimensions?
Best Answer
3.9 x 2.75 x 1.5 in
6.5 oz
AMK Marketing rep Jordan Hurder breaks down the SOL Origin, a survival tool that's the first of it's kind - part kit, part multifunction tool, part storage box, the Origin is the most durable survival kit on the market and contains a collection of tools that will help you Survive Outdoors Longer.