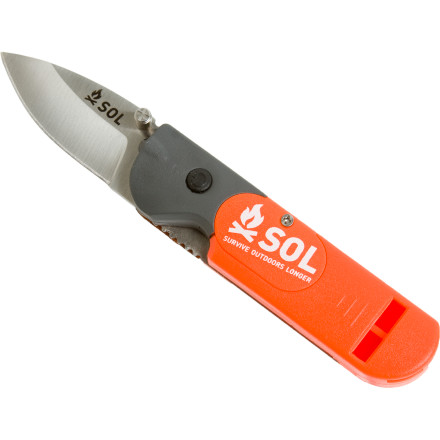 Detail Images
When you venture out into the wild be prepared for the unexpected and carry the ultra-lightweight Adventure Medical SOL Core Lite Knife. This quintessential multifunction survival tool features a folding AUS-8 steel blade with a drop-point, hollow-ground blade that excels at slicing, whittling, and notching and grooving branches to make a shelter. Adventure Medical added a dual-battery ultrabright LED light that aims down the blade for task cutting in the dark and helps illuminate your camp on moonless nights. A 100db rescue whistle located at the base of the handle also helps lead rescuers to your location.
Size: 3.5 x .875 x .5" (8.9 x 2.2 x 1.3cm)
This is an alright tool. The knife isn't the strongest and the light isn't either. The whistle works. This is a decent tool to toss into your survival kit and have handy just in case. This isn't a knife that you should be using for daily use. For the money it is decent and if it is able to save your life before breaking don't you think you have gotten your moneys worth?
I played around with one of these, and it's honestly not that great. The blade is tiny for the size and weight of the knife, the whistle is ok, and why the hell do you need a tiny LED on a pocket knife? Maybe the batteries were dying, but the light wasn't very strong. The construction feels pretty sketchy.
AMK Marketing rep Jordan Hurder shows you the SOL Core Lite, a 1.5oz survival tool with a folding-blade knife, signal whistle, and LED light.
I should have paid closer attention to the details about this knife because the blade is super small. The handle feels of very cheap construction (its plastic). Although it seems to be like it fulfills its taste well: a cheap, small knife with cutting light and whistle.. Not honestly sure I would recommend it.
Where is this knife made?
Where is this knife made?
In a world where know one loses there right hand and never uses there left.