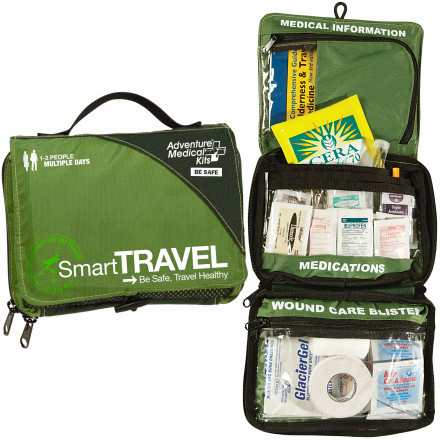 Description
A makeshift health clinic in a travel-friendly design.
When you're traveling to a place where the local hospital is the backroom of someone's house, and the local ambulance is the bed of pickup truck, it'd be wise to carry the Adventure Medical Kits Smart Travel First Aid Kit. This comprehensive medical kit features plenty of wound dressings, essential tools, and medications for pain and stomach ailments. From nasty cuts to disagreeable drinking water, this kit has you covered. There's even a portable medical guide for quick reference.
Not an EMT? want to save a life?
Familiarity:

I've put it through the wringer
This is a great item for people that are knowledgeable, but may not remember every emergency medical procedure. Although there is no true replacement for this knowledge, I love having the guide to wilderness and travel medicine in the case that I get in a situation over my head. I got this to bring along traditional climbs, and it has already proved useful. I haven't used it for anything major, but I feel much better bringing it along in the case that the unexpected or catastrophic happens. I will also bring it along for backpacking trips. I have gone long enough without having proper safety items. Not being prepared for an injury is not a fate I will tempt.
Good Kit
Familiarity:

I've used it several times
Packed on a five day Hike. It has just about everything you need. I added a few more band aids, and was disappointed it was lacking any kind of burn cream.
Perfect size for most situations.
Great product, bought this to keep at my yurt. Sort of like an insurance policy, it makes you feel better knowing you have it but you hope you don't need to use it. Knowing that emergency care is not close, being able to respond first comfortably really helps. This was not too big, yet has most everything I need for immediate care after an accident. I will throw a few other things in the kit like more bandages, some super glue, and more ibuprofen. There is plenty of room to add stuff. Then if I decide to travel somewhere exotic, this will be thrown in the backpack and I'll know I have everything.
I just got this and was impressed with the amount of gear in here (despite how compact it is). Its great for a hiking companion or if you're planning a long camping trip. I got it for around $25 on sale and it was well worth it
Smart Travel Kit by Adventure Medical Kits
AMK Marketing rep Katie Singleton breaks down the Smart Travel kit, which contains medications, wound care supplies, comprehensive first aid information, and a host of other features designed to help keep you healthy on your next trip, wherever your travels may take you.