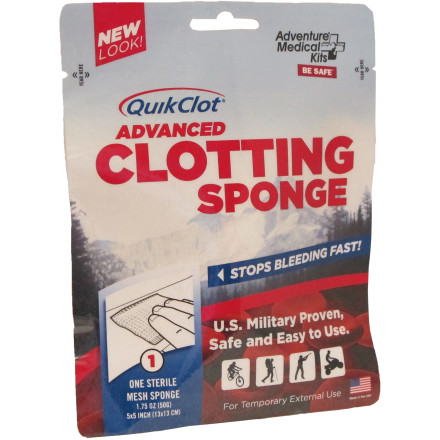 Colors
Description
Keep blood where it belongs.
A hatchet to the foot or a gunshot wound to the shin isn't funny, unless there was juggling or a mime involved. Either way, the Adventure Medical Quikclot Advanced Clotting Sponge uses a chemically inert substance to stop the bleeding faster than just applying pressure can. Two available sizes of chemically treated mesh sponges let you safely and more effectively reduce blood loss while you get your friend to the hospital.
50g or 25g sizes
1 treated mesh sponge
what's the difference between the sponge and the gauze versions of this product? The image on the packaging looks very similar.
Best Answer
Erik, so the sponge and gauze use a slightly different clotting agent. Both safe but, the sponge when you take it out looks like a tea bag compared to what you know gauze to look at. You will apply direct pressure with both but, the gauze's clotting agent works more like clay compared to the sponge which actually just speeds up the blood clotting process. I learn heavy towards the gauze for 2 reasons. The army uses the gauze and you get 2 pieces of gauze in the package compared to the one sponge.



If you have anymore questions feel free to send me an email or call!



Bill Porreca

bporreca@backcountry.com

801-736-6398