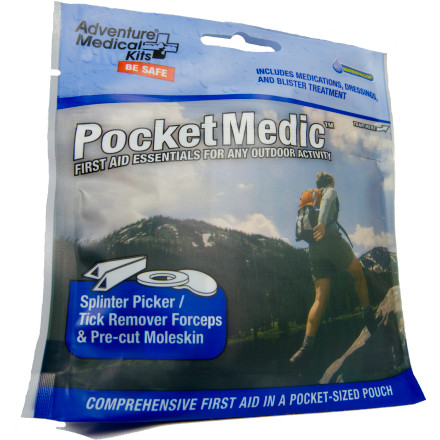 The 2 ounce Adventure Medical Kits Pocket Medic contains all the goodies you need to reverse the horrendous beatings that you give your body and helps the healing begin.
What do you think about this product?
Have questions about this product?
I love this thing
Familiarity:

I've put it through the wringer
When I started out camping I used to take a huge full fledged medical kit that I never ended up using every time and all it did was weigh me down. So when I really started to get serious about hiking and camping I wanted to drop weight, that's when I found these. They were on sale for cheap so I picked up 5 or 6 and put them everywhere expecting them to just sit, but they didn't. Taking my little cousins out hiking it was great to have something like this because to kids, band aids are a cure all. It has all the essentials a pocket kit should have and the addition of the tweezer like forceps and the mole skin it really comes in useful. This is great to just have around if you have kids, and even though I'm no fan of band aids myself the after bite, ibuprofen, and gauze were great to have when I needed them. Its not everything you would ever need, but at least its something. I would suggest to pick up a couple just to have around, especially if you've got kids.